Sexual Abuse in the Military: The War Within Infographic examines accusations of sexual assault made by active-duty members of the U.S. military since 2006.
---
Sexual Abuse in the Military: The War Within Infographic

Share this infographic on your site!
---
The War Within
More than 80,000 accusations of sexual assault have been made by active-duty members of the U.S. military since 2006. Only a small fraction of perpetrators are convicted, and most victims find the process fails them in many ways. With reports on the rise, more and more social workers are having to confront issues unique to the military.
How Common is Sexual Assault in the Military?
Nearly 80,000 – Sexual assaults were reported by active-duty military members between 2006 and 2012
34% – Increase in sexual assaults (both officially reported and not) between 2010 and 2012
Active duty members experiencing unwanted sexual contact by year
2006 34,200 1.8% of men 6.8% of women
2010 19,300 0.9% of men 4.4% of women
2012 26,000 1.2% of men 6.1% of women
Assault Usually Goes Unreported
26,000 – Service members who experienced unwanted sexual contact in 2012
3,374 – Sexual assaults were officially reported to the Department of Defense in 2012
238 – Individuals convicted of sexual assault in 2012

Restricted vs. unrestricted reporting
Within the military, there are two ways victims can report sexual assault:
Restricted: Confidential reporting where legal action is not sought and the victim seeks medical treatment and/or counseling.
Unrestricted: Victims seek medical treatment and/or counseling and will explore legal options.
A Look at the Victims
Though most assaults will go unreported, thousands of service members still are telling their stories.
Gender of victims (2012) in unrestricted reports
Male 12%
Female 88%

Age group of victim
Age 16-19 18%
Age 20-24 51%
Age 25-34 25%
Age 35-49 4%
Age 50 and older <1%
Age not available <1%
Type of offenses reported
Aggravated sexual assault and sexual assault 28%
Rape 27%
Abusive and wrongful sexual contact 35%
Nonconsensual sodomy 6%
Aggravated sexual contact 4%
Indecent assault <1%
Attempts <1%

Top reasons for sexual assault going unreported:
70% Did not want anyone to know
66% Felt uncomfortable making a report
51% Did not think the report would be kept confidential
---
Failing the Victims?
How satisfied were sexual assault victims with the services they received after reporting the crimes?

Rate of victims reporting they were satisfied:
Sexual assault advocacy 61%
Counseling 52%
Medical care 49%
Overall reporting process 35%
Length of investigation 33%
Informative process 26%
---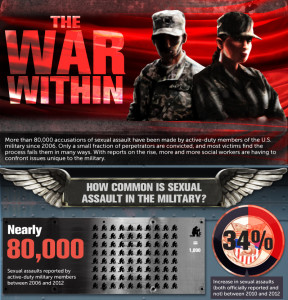 ---
Related Infographics: