The Social Impact Of Mixing Business & Medicine Infographic examines if the American healthcare system finds a way forward after COVID-19?
---

Share this infographic on your site!
---
The Social Impact Of Mixing Business & Medicine
In the U.S. healthcare spending is over 18% of GDP and climbing — Since 2009, healthcare spending for other OECD countries has hovered around 8.8% of GDP since 2009
---
The High Cost Of Healthcare
From 2007 to 2014, Americans with health insurance saw their health spending increase by 20% on average
Causes Of Rising Costs
Prescriptions
From 2009 to 2016, the cost of Epipen grew from $100 to $600
From 2012 to 2016, insulin prices rose by $2,841 each year
Cost Of Care
From 2007 to 2014, the cost of hospitalization rose by 42%
Hospital-based outpatient costs increased by 25%
The cost of physician visits grew by 6%
---
Health Insurance Is Big Business
In 2019, the 5 largest health insurance and pharmacy benefit providers in the U.S. brought in greater combined revenues than the 5 largest tech companies:
Anthem, Cigna, CVS Health, Humana, UnitedHealth: $787 billion
Facebook, Amazon, Apple, Netflix, Google: $783 billion
Yet, 1 in 3 Americans say they themselves, or a family member, delayed seeking treatment due to healthcare costs
By 2027, healthcare spending will reach $6 trillion a year — That's almost 1.7X higher than a decade earlier
Americans are 2-3X more likely to ignore medical advice due to cost than Canadians
---
High Prices Cost More Than Money
62% of Americans consider cost when deciding if they'll pursue care
13% of those who ask for price up front, don't get an accurate estimate
Over half of Millennials and Gen X have delayed or avoided care due to cost
Each year, delaying or avoiding care leads to
10% of hospitalizations
125,000 avoidable deaths
Americans who do seek medical care, don't always follow through
In 2019, 26% of Texans* had a claim denied by their insurance company — including doctor-ordered medicines, procedures, tests, and scans
---
What did they do instead?

30% paid for medicine, procedure, or test out of pocket
14% appealed and their insurer changed its decision
10% had symptoms worsen, or a delayed diagnosis
67% of medication non-adherence is linked to the high cost of healthcare
20-30% of prescriptions are never filled
50% of medications for chronic diseases aren't taken as prescribed
Going without treatment ends up costing even more
In the U.S., treatment nonadherence costs between $100 billion and $289 billion annually
For patients with chronic diseases, treatment nonadherence can cost $949 to $44,190 — due to worsening symptoms, complications, and hospital readmittance
BUT, improved medication adherence lowers overall spending by $37 for every $1 spent on the medication*
Each year, more than 26,000 American adults* die due to lack of health insurance — The uninsured face between 25% and 80% greater risk of death
---
Who Are The Uninsured?
Nearly 9 in 10 are nonelderly adults
More than 8 in 10 are low-income* families
More than 7 in 10 had at least one full-time worker in their family
Another 1 in 10 had a part-time worker in their family
People of color make up 43% of the population, but account for over half of the uninsured, including
22% of American Indians & Alaska Natives
19% of Hispanic Americans
11% of African Americans
Since 2016, the number of uninsured has grown by 1.2 million — 45% of uninsured adults say they can't afford insurance premiums
On March 20, 2020, a 17-year-old with symptoms of COVID-19 went to an urgent care facility in California to seek treatment. Due to lack of insurance, he was denied care and sent to a local hospital instead — He went into cardiac arrest before reaching the hospital and died 6 hours later
---
The Role Of Business In COVID-19
As the coronavirus spreads, U.S. hospitals face critical shortages of equipment
Nearly 1 in 4 hospitals have fewer than 100 N95 masks on hand*
1 in 5 reports an immediate need for more ventilators*
In February, the FDA reported the first human drug shortage related to coronavirus, experts warn that more drug shortages may become. The federal government's strategic stockpile has also run low — with just 10.5 million of the estimated 300 million N95 masks the country will need
---
What Caused The Shortage and is the Social Impact Of Mixing Business & Medicine?
Just In Time Shipping: A practice that reduces the inventory held by retailers and hospitals to increase cash flow — but can lead to shortages when unexpected disruptions affect supplies
Manufacturing Disruptions: As the pandemic began, Chinese manufacturing experienced labor shortages and slower production — Affecting many of the protective articles we now find in short supply
U.S./China Trade War: 26% of U.S. medical goods are imported from Chinese manufacturers — high tariffs on Chinese imports mean shipments are being directed to other countries
Lack Of Funding: Despite the high cost of healthcare, U.S. hospitals make just 1.8% profit on patient care — With prices around $50,000 per ventilator, many hospitals simply can't afford to buy more
"[T]he new U.S. medical supply chain is exceedingly fragile. In these early stages, we can already experience a shortage of personal protective equipment across the country, such as N95 respirators. As the cases spread, so will the scarcity." — Ednilson Bernardes, Professor at West Virginia University's John Chambers College of Business and Economics, and Coordinator of the Global Supply Chain Management program
Can the American healthcare system find a way forward after COVID-19?
---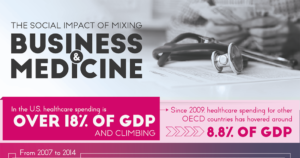 ---
Related Infographics: