This infographic on children's health explains the state of children's health in the US and initiatives are underway to improve it.
---
Children's Health Infographic

Share this graphic on your site!
THE STATE OF CHILDREN'S HEALTH
More than 18,000 children under the age of 5 will die today around the world. About three-quarters of those deaths will be from preventable causes. What is the state of children's health around the world, and who is working to make the situation better?
Starting Off On the Right Foot
Infant mortality rates are often used to measure health within a country. And as one might expect, developing countries have the worst infant mortality rates in the world. But it might be shocking to learn that while the U.S. has a healthy rate, it's not among the top 50 countries.
Surviving and Thriving
Children who survive infancy still face long odds in many parts of the world.

6.6 million – Children under 5 who died in 2012
1 in 2 – Proportion of those deaths that could have been prevented with simple, affordable interventions
44% – Deaths of children under 5 that occur during the first 28 days of life
70% – Child deaths that occur in Africa and Southeast Asia
3 in 4 – Child deaths worldwide caused by six largely preventable conditions:
Poor neonatal health
Pneumonia
Diarrhea
Malaria
HIV/AIDS
Measles
8 in 10 – Children 5-11 in the U.S. who are in excellent or very good health
51% – Women age 20-24 who gave birth before age 18
---
Children's Health in the United States
While the U.S. has some of the best health outcomes for children in the world, there are still major concerns about children's health in America.

Every day in the United States:
4 children are killed by abuse or neglect
5 children/teens commit suicide
7 children/teens are killed by firearms
67 babies die before their first birthdays
892 babies are born with low birth weight
914 babies are born to teen mothers
1,208 babies are born without health insurance
2,712 babies are born into poverty
---
Improving Children's Health
Several initiatives are underway to improve the health of mothers and children throughout the world.
Millennium Development Goals 4 and 5 – Aims to decrease child and maternal deaths worldwide
GAVI – The Global Alliance for Vaccines and Immunizations – Global health partnership of private and public sector organizations dedicated to "Immunization for All"
Roll Back Malaria – Global strategy aimed at reducing deaths from malaria by increasing treatment and prevention tools
Stop TB – Promotes implementation of directly observed therapy short-course strategy (DOTS) to help stop TB around the world
---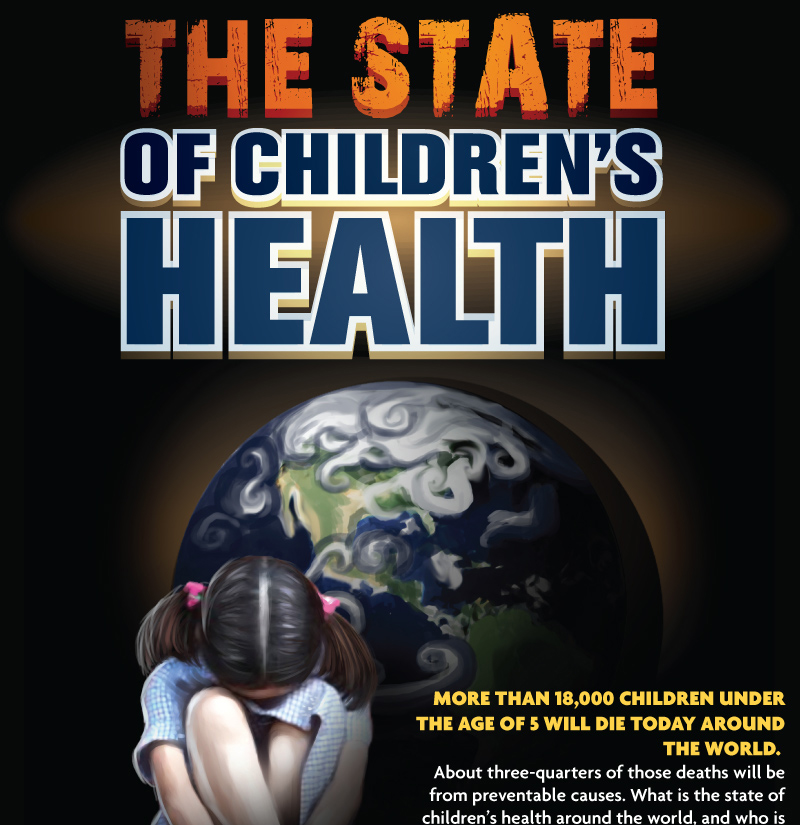 ---
Related Infographics: