The Homelessness Today infographic depicts the faces of homelessness that are so prevalent throughout the US.
---
Homelessness Today Infographic

Share this infographic on your site!
---
The Faces of Homelessness Today
There are three categories of people in the U.S. at risk of becoming homeless: those over 50, veterans and LGBTQ youth. Let's take a look a closer look at these groups and the hardships they face.
---
Homelessness at a Glance
564,708
Number of homeless people in the U.S. (2)
15%
Percentage of homeless population considered "chronically homeless" (2)
206,286
Members of homeless families in the U.S. (2)
California's homeless percentage, 20%, is the highest in the country.(1)
---
High-Risk Populations
Age 50+
Homeless people aged 50+ face complications due to geriatric syndromes that include: (2)
Falls
Cognitive impairment
Sensory impairment
Urinary incontinence
Physical frailty
Major depression
Diseases like diabetes and arthritis
Percentage of homeless age 50 and older (2)
1990s: 11%
2003: 37%
Today: 50%
3.9%
Unemployment rate for Americans 55+ (3)
Veterans
War-related disabilities or disorders often contribute to veteran homelessness, including: (2)
Physical disability
PTSD
Traumatic brain injury
Depression and anxiety
Addiction
8%
Percentage of homeless people who are veterans (2)
35.8%
Percentage of homeless veterans who remain unsheltered (2)
Washington D.C. has the highest rate of veteran homelessness, at 145.8 homeless vets per 10,000. (2)
45%
Percentage of homeless veterans who are black or Hispanic (4)
1.4 million
Number of veterans at risk of homelessness due to poverty, overcrowding in government housing and lack of support networks (4)
50%
Percentage of homeless veterans with serious mental illness (4)
LGBTQ youth
110,000
Number of homeless LGBTQ youth in the U.S. (2)
20%
Percentage of runaway and homeless youth who identify as LGBTQ (2)
40%
Percentage of LGBTQ youth who say they live in a community that is not accepting of LGBTQ people (5)
LGBTQ youth are twice as likely to be physically bullied at school. (5)
Top reasons for LGBTQ youth homelessness (6)
Family rejection : 46%
Forced out by parents: 43%
Abuse at home: 32%
Aged out of foster care: 17%
Neglect from family: 14%
58.7%
Percentage of homeless LGBTQ youth who have been sexually victimized, compared to 33.4% of heterosexual homeless youth.(7)
62%
LGBTQ homeless youth suicide rate, compared to 29% among heterosexual homeless youth. (7)
---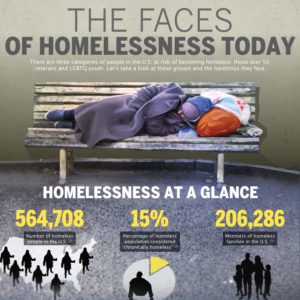 ---
Sources:
1. http://www.alternet.org
2. http://www.endhomelessness.org
3. http://www.bls.gov
4. http://nchv.org
5. http://www.hrc.org
6. http://williamsinstitute.law.ucla.edu
7. http://www.nationalhomeless.org
---
Pages for Infographics: