The Homelessness Today infographic depicts the faces of homelessness that are so prevalent throughout the US.
---
Homelessness Today Infographic

Share this infographic on your site!
---
The Faces of Homelessness Today
There are three categories of people in the U.S. at risk of becoming homeless: those over 50, veterans, and LGBTQ youth. Let's take a look a closer look at these groups and the hardships they face.
---
Homelessness at a Glance
564,708 – Number of homeless people in the U.S.
15% – Percentage of the homeless population considered "chronically homeless"
206,286 – Members of homeless families in the U.S. California's homeless percentage, 20%, is the highest in the country.
---
High-Risk Populations
Age 50+
Homeless people aged 50+ face complications due to geriatric syndromes that include:
Falls
Cognitive impairment
Sensory impairment
Urinary incontinence
Physical frailty
Major depression
Diseases like diabetes and arthritis
Percentage of homeless age 50 and older
1990s: 11%
2003: 37%
Today: 50%
3.9% – Unemployment rate for Americans 55+
---
Veterans
War-related disabilities or disorders often contribute to veteran homelessness, including:
Physical disability
PTSD
Traumatic brain injury
Depression and anxiety
Addiction
8% – Percentage of homeless people who are veterans
35.8% – Percentage of homeless veterans who remain unsheltered. Washington D.C. has the highest rate of veteran homelessness, at 145.8 homeless vets per 10,000.
45% – Percentage of homeless veterans who are black or Hispanic
1.4 million – Number of veterans at risk of homelessness due to poverty, overcrowding in government housing and lack of support networks
50% – Percentage of homeless veterans with serious mental illness
---
LGBTQ youth
110,000 – Number of homeless LGBTQ youth in the U.S.
20% – Percentage of runaway and homeless youth who identify as LGBTQ
40% – Percentage of LGBTQ youth who say they live in a community that is not accepting of LGBTQ people. LGBTQ youth are twice as likely to be physically bullied at school.
Top reasons for LGBTQ youth homelessness
Family rejection : 46%
Forced out by parents: 43%
Abuse at home: 32%
Aged out of foster care: 17%
Neglect from family: 14%
58.7% – Percentage of homeless LGBTQ youth who have been sexually victimized, compared to 33.4% of heterosexual homeless youth.
62% – LGBTQ homeless youth suicide rate, compared to 29% among heterosexual homeless youth.
---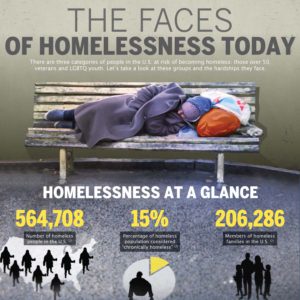 ---
Pages for Infographics: