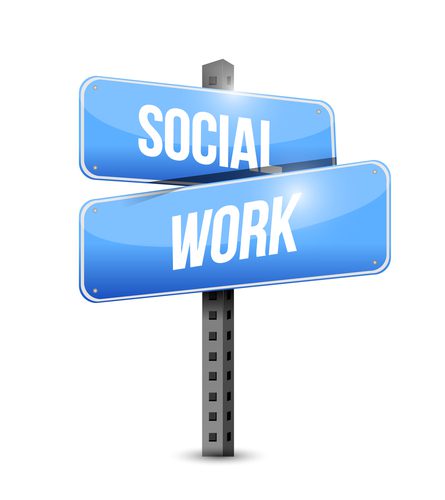 If you are considering pursuing a master's degree in social work certainly you have asked yourself what can I do with a master's in social work? Even those who are close to graduating with their degree ask the same questions, as they may not yet be certain what direction they want to go. The answer is, there are so many things you can do with a master's degree in social work. It can take you in many different directions, and sometimes in a direction that is quite unexpected.
Many people assume that someone who is working towards earning a master's degree in social work wants to become a therapist. While in many social work graduate programs 70% or more of students do intend to take the clinical route, there are so many other things graduates can do with their master's degree in social work. Social workers can be clinicians, advocates, community organizers, supervisors, or administrators, or take on a combination of several different roles. Additionally, some social workers decide that they really like research and go on to earn a PhD in social work or a DSW degree to engage in research and teaching. Others go on to get a law degree to provide advocacy and legal services to vulnerable populations.
What undergraduate degree do I need to go into social work?
To be accepted into an MSW program an applicant must have an undergraduate degree. Some students wonder if it's best to start with a bachelor's degree in social work. While it can hasten to secure the MSW through something called advanced standing, where a BSW grad only has to take one year of coursework and fieldwork to get the MSW, it is not a prerequisite to obtaining your MSW. Students are accepted into social work graduate programs with a wide cross-section of undergraduate degrees. Many social work graduate students have a BA in sociology or human services, but a great number have degrees in fields as disparate as fine arts or biology!
Do I have to take a licensing exam after graduation?
If you do intend to take the clinical route in most states you must take a professional licensing exam to become a certified Licensed Clinical Social Work (LCSW), or Licensed Master Social Worker (LMSW). Some states have additional levels of licensure, but these are two of the most common. Also, just because you have earned a social work license does not mean you have to be a therapist or work in a clinical role. Some social workers who have obtained a license still opt to take on a non-clinical role.
Whether or not a social worker obtains one license or the other, or is a clinical social worker or serving in a different type of role, there are several values all social workers – those with a BSW or MSW degree – are expected to embody and practice. according to the Social Work Code of Ethics, all social workers are required to engage in policy practice. That means they are called to advocate for social policies that help and empower vulnerable populations and to help their clients advocate on behalf of themselves.
What are some of the specific jobs I can pursue after graduating with my master's degree in social work?
So, prospective social work students and even recent grads ask, what can I do with my master's degree in social work? The bottom line is, social is one of the most rewarding professions and one that enables you to truly make a difference in the lives of others.
The following are some of the most popular and gratifying social work employment opportunities for students who have earned their MSW degree:
Psychiatric Social Work or Clinical Social Worker
A large percentage of master's level social work graduates do go into clinical social work which means they will engage in direct clinical practice with clients. Clinical Social Workers are also called Mental Health Social Workers. They provide psychotherapy and counseling services for the treatment of mental health disorders and illnesses and other challenges their clients are seeking help with such as grief, trauma, or relationship problems. Social workers in a clinical setting are responsible for assessing a patient's mental health, diagnosing the presence of disorder, developing effective plans for treatment, and working with clients to develop goals for recovery or a plan for achieving greater wellness.
In addition to an MSW, in most states, social work therapists and clinicians must obtain licensure or certification as an LCSW. Clinical social workers can be hired in a wide range of settings including community mental health centers, stabilization centers (for short-term mental health and substance use emergency stays), psychiatric units in hospitals, other hospital departments, schools, and private practice. Earnings for social work therapists in private practice are among the highest salaries an advanced social worker with an MSW can earn.
If you are interested in going the clinical route it is a good idea to complete fieldwork/internships as a student that will help you develop your clinical skills. It is a really good idea as well to get experience working with the client population you want to work with after graduation. If you cannot do this, there will be entry-level positions you can apply for after graduation that can give you experience working with a specific population.
Some specialty populations clinical social workers work with include traumatized children and families, the seriously mentally ill, developmentally disabled children and their families, the geriatric population, and the incarcerated population. There is high projected growth in demand, an 18% increase through 2028, for clinical social workers.
Hospital Social Workers and Hospice Social Workers
Hospice Social Workers are responsible for providing support to patients with chronic or terminal illnesses and their families. Medical or healthcare social workers work directly with patients to ensure they are receiving proper care, to assist with decision making, and facilitate communication with their medical providers. Hospital Social Workers also called Medical or healthcare social workers are strong advocates for patient rights and an incredible source of comfort during an extremely difficult time in their clients' lives. They typically work in interdisciplinary teams with other health care professionals within hospitals, emergency rooms, nursing homes, hospices, and assisted living facilities. The projected growth rate for healthcare social workers through 2028 is 17% according to the U.S. Bureau of Labor Statistics. This one of the highest growth rates for any subspecialty of social work, therefore opportunities for healthcare social workers will be plentiful in the years ahead.
Substance Abuse And Addictions Counselors
Substance Abuse Social Workers, or Addiction Counselors, work with individuals suffering from the use of illicit or prescribed drugs, alcohol, and other substances through both individual and group psychotherapy. Since substance use is so difficult to treat, this is one of the most demanding roles in social work. However, playing such a vital role in helping substance users recover and changing their lives for the better is extremely rewarding. Substance abuse counselors are employed in rehabilitation facilities, non-profit organizations, correctional facilities, and private practices. As the child welfare and criminal justice systems increase their focus on rehabilitation, employment in this social subfield is predicted to have high growth (18%) through 2028.
Prison And C

riminal Justice Social Worker
The criminal justice system employs social workers in jails and prisons and probation. In jails and prisons, Criminal Justice Social Workers complete intakes and assessment, coordinate and facilitate therapeutic groups, supervise and deliver counseling services, develop educational and occupations programs, and help those who are going to be released develop a plan for reentering the community successfully. Some probations officers have a social work degree, but social workers may also work within the criminal justice system alongside police or probation officers to help paroles live crime-free and productive lives. There are ongoing discussions in many cities about embedding social workers with police officers or even replacing some policing functions with social work-oriented approaches to working with vulnerable members of communities; therefore expect growth in the demand for social workers in these sectors.
Gerontological Social Worker
As our populations age, so do opportunities for gerontological social workers who work with the aging and elderly in senior and assisted living communities and facilities, nursing home and rehab facilities, hospitals, and private practice. The elderly often have specific mental and physical health needs that gerontological social workers can help ensure are being addressed in different settings. Social workers can also help mediate disputes between elders and their families, intervene when there is evidence of elder abuse, and connect elders with home visiting services and other programs to help them age at home rather than in an institution. Social workers also work for home visiting agencies in the capacity of providing therapeutic services in the home and generally working with clients to ensure their well-being.
Social Justice Advocates
Social workers also serve as social justice advocates, activists, and community organizers either in a paid or voluntary roles in several different types of organizations such as advocacy organizations, government agencies, nonprofit organizations, and community organizations. All social workers are expected to engage in policy practice, but some choose to focus on social policy, social justice, or human rights advocacy as their full-time job. They may work either in the U.S. or abroad and play a critical role in bridging micro and macro practice, both of which are critical components of professional social work. They may advocate for vulnerable populations such as the differently-abled, the elderly, low-income people of color, immigrants, or victims of human trafficking.
Child Welfare Social Worker
Child welfare is one of the leading career destinations for those with a master's degree in social work. Child welfare agencies are generally government-run entities that investigate child abuse and neglect, remove children from the home when their lives are in danger, place children into foster care, connect families with programs and services to help prevent first time or future instances of abuse and neglect, and place children whose parents have lost their parental rights in adoptive homes. Some counties, cities, and states have outsourced key child welfare functions to private nonprofit (in some cases for profit) agencies.
Child Welfare Social Workers are child protective specialists, therapists, supervisors, administrators, or foster care and adoption social workers. The field of child welfare needs social workers who are compassionate, strong and have a deep passion for helping children and families. Salaries vary widely depending on role and geographic location.
School Social Worker
Another social work career that requires a deep love for children is school social work. School social workers develop social-emotional learning resources and curricula for their schools; develop anti-bullying and harassment policies and programs; work with families and students facing economic, housing, and other challenges; provide counseling to students and lead groups; and are often involved with the process of developing and monitoring an individualized education program (IEP) for students with differences in social, emotional, behavioral, physical or learning abilities. School social workers may also be responsible for facilitating sex health education and crisis intervention plans.
Some social workers opt to become guidance counselors to focus more on guiding children academically and in making college plans. Students who are interested in working in schools after graduation should try to work in a school during their graduate studies and obtain experience working with children and families. Many states require school social workers to obtain a specific level of licensure.
What else can I do with my master's degree in social work?
Although a master's degree in social work only takes two years to complete full-time, graduates are often amazed at the large variety of employment opportunities open to them. In addition to the mentioned popular careers, graduates can also become nursing home directors, hospice workers, adult protection workers, psychiatric crisis screeners, and adjunct lecturers at universities.
If you have decided on a career in social work, you have certainly made a good decision in terms of choosing an occupation that will experience strong job growth over the next decade. According to the U.S. Bureau of Labor Statistics overall employment for social workers is projected to grow 11 percent from 2018 to 2028, much faster than the average for all occupations.
Social work is one of the most satisfying, albeit sometimes toughest, careers. Of all the degrees available in graduate programs, a social work degree offers some of the most diverse set of job opportunities where you will be engaged in some of the most rewarding work.
More Articles of Interest: