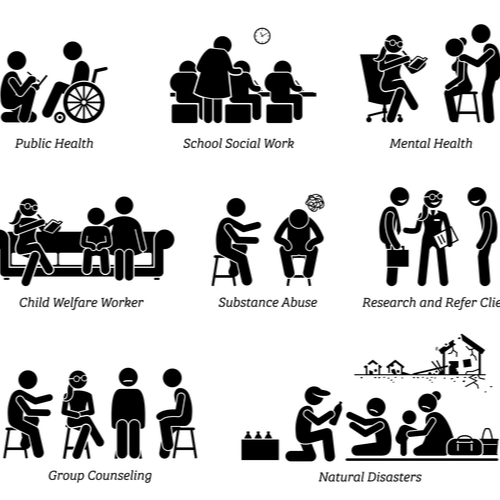 US Social Work education is organized and delivered based on the Council on Social Work (CSWE) educational policy and accreditation standards. Current social work students and those considering a career in social work should know how social work education is organized and delivered in the US. For example, the Council on Social Work Education accredits and re-accredits social work programs across the United States. They also hold an annual conference, provide social work educators and practitioners training, and sponsor research.
---
Council on Social Work Education (CSWE)
The Annual Program Meeting is CSWE's signature conference which brings together social work educators, students, deans, and directors. At the graduate and doctoral levels, social work students are highly encouraged to attend the APM, which moves to different locations each year. At this annual meeting, students can network with faculty and administrators from various schools and with each other. In addition, there are many specialized issue area tracks meeting participants can take part in, and students and faculty alike are encouraged to present their research via posters and presentations.
According to CSWE, as of October 2019, there were:
529 accredited baccalaureate social work programs
271 accredited master's social work programs
15 baccalaureate social work programs in candidacy
31 master's social work programs in candidacy
---
Accreditation Process for Schools of Social Work
The CSWE publishes a set of standards a school of social work needs to meet to be accredited or reaccredited. These standards are the Educational Policy and Accreditation Process (EPAS). The standards outline curricular requirements for schools and degree offerings. The CSWE itself accredits schools of social work following standards set by the Council for Higher Education Accreditation (CHEA). There are federal and state laws that also govern the accreditation of schools of social work and other higher education programs.
---
CSWE Standards
CSWE provides standards each social work school and degree program must meet. Schools must meet these standards in organizing their generalist practice curriculum and specializations. In addition, social work students must meet the nine required social work competencies listed in the EPAS. Each competency describes the needed knowledge, values, skills, and cognitive processes. Additionally, the behaviors needed for the dimensions of each competency are also included. So, the structure of Social work schools and programs must prepare students to develop these competencies.
During the accreditation process, schools also must describe how their fieldwork program will enable students to connect classroom learning to practice in the field. Schools must explain the organizational structure of their field programs and how the programs fulfill the social work education competencies council. Additionally, they must convey how it prepares students for the generalist or specialized practice. Schools have an opportunity to revise their mission and goals during the re-accreditation process. For example, some schools may have focused missions such as educating students of color or preparing students to work in specific practice fields or communities.
---
How is Social Work Education Organized at Colleges and Universities
When considering a career in social work, it is essential to understand the organizational structure of social work education in higher education institutions. Typically schools of social work are independent of other schools, but at the undergraduate level, social work degree programs may fall under a particular department such as human services.
---
Undergraduate Bachelor's Degree in Social Work or BSW
Young people may consider a career in social work as early as high school or college. If high school students already are familiar with the field – perhaps a parent or relative is in the area – they may want to consider applying to a college that has offers an undergraduate Bachelor's Degree in Social Work (BSW). The BSW degree enables undergraduate students to work in positions requiring only undergraduate social work training.
---
MSW, the Master's degree in Social Work
The BSW will also prepare students for graduate-level social work training and earn their Master's Degree in Social Work (MSW). College graduates who have earned a BSW may be eligible to enter an MSW program with advanced standing. This means that they are on an accelerated track to obtaining their MSW. They may only need one year of coursework and fieldwork, on top of their BSW education and training, to get their MSW.
College graduates without a BSW will want to explore all their options for obtaining an MSW. It takes graduate social work students about two years full-time, or three to four years part-time, to obtain their MSW. Therefore, students should consider their scheduling and academic needs in choosing a social work graduate program.
Do you need a part-time or full-time program? Some students relocate to attend school while others find a program locally. Do you want to learn online in or in a classroom? What kinds of specializations interest you? For example, do you want to study macro practice, community organizing, or research? Students should also consider the areas of study in the school. Specializations in gerontological social work, child welfare, family therapy, marriage therapy, working with traumatized clients are options. Some schools have these programs, and some do not. Finally, students may want to consider whether schools offer financial aid or scholarships and they will want to look at programs' reviews and rankings.
---
Doctoral Level Social Work Education
The terminal degree for social work practice is not the MSW. Instead, the Doctorate in Social Work (DSW) degree traditionally has training practitioners to reach the highest clinical and macro practice levels. It is a more of an applied practice degree than the PhD in social work which focuses on evaluating social policy, social work clinical practice, social work and human service administration, and community programs. DSW programs, at present, do not have accreditation from the CSWE. However, there are fewer than twenty DSW programs in the country.
---
What is the Future of Social Work Education?
Social work education is a mammoth industry. There are hundreds of programs, and a demand for social work education services continues to grow. As the number of social work jobs available across the country increases, more young people are considering a career in social work. Additionally, more older people are considering a second career in social work.
There is a lot to know and learn about social work education. For example, many students are unaware of what CSWE has to offer them and their schools. Social work education is a well-regulated industry, as it should be. However, all schools educating future social workers must meet the highest standards. Tomorrow's social work professionals must be ready for the multitude of challenges they will meet at the micro, mezzo, and macro levels in the decades to come.
---
Related: