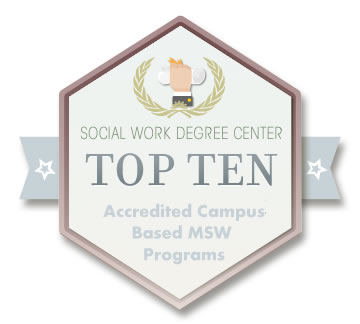 Choosing a school in which to pursue graduate work is a lengthy process. Everybody wants to choose a school that has high rankings, accreditation and reasonable tuition. Plus, everybody wants to go to school with a strong curriculum that will prepare them for a career. Each of the schools on this list was selected for offering strong programs for students wishing to pursue social work as a career. These schools focus on clinical work as well as social science theory. It is essential that students have experience working one-on-one with the community as well as learning information in a classroom setting.
The schools listed on the following Top 10 Accredited MSW Programs (On-Campus) list offer graduate programs with strong rankings from independent sources. One of the biggest factors in adding these schools to the list is that each one has unique course and major offerings. Students can obtain more than an MSW. They can achieve a degree with a unique concentration that they can use in a specific career field.   Additional factors in our selection methodology include accreditation through well recognized social work accrediting bodies, ranking from reputable sources like the U.S. News  and World Report, Princeton Review, and Forbes, as well as additional factors like faculty experience, tuition and education costs, and innovative curricula.   Each of these schools also offers a unique history and strong accreditation that make them shine above the rest. If you go to one of these schools, your education will stand the test of time.
1. University of Chicago

The University of Chicago offers an on-campus graduate degree in Social Work called the SSA Master of Arts. It is the equivalent of an MSW and allows students to work directly in the field of social work while also taking classes in social science theory. This program is unique because it offers a choice between a concentration in clinical work or social administration. UC is accredited by the Council on Social Work Education. It has been accredited since 1919. U.S. News ranked this institution as third on the list of Best Grad Schools for Social Work. Tuition for the University of Chicago is $45,324.
For more about the University of Chicago's MSW Program, go here
2. Washington University in St. Louis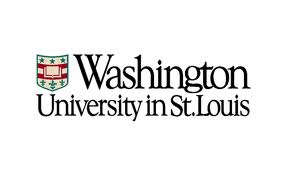 Washington University in St. Louis was established as the result of a flood of immigration to the region during the 1850s. Its MSW offering is available at its world renown Brown School campus and accredited through the Higher Learning Commission. Flexible scheduling and concentrations emphasizing children, gerontology, health management, mental health and research are features of this great program. WU emphasizes the importance of working in the field by offering not only stellar academics (with the added option of completing a bachelor's and master's degree in social work in just five years) but also the hands on experiences needed to succeed. The U.S. News ranked the Brown School as the number one Social Work program in the nation for these reasons and more. Tuition is $35,520.
For more about Washington University's MSW Program, go here
3. University of Michigan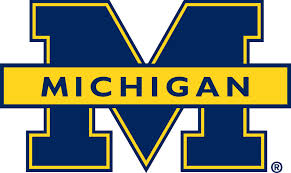 According to the U.S. News and World report, the University of Michigan's on campus Master's in Social Work programs share the number one spot in the nation. With offerings in several concentrations, like: Interpersonal Practice, Community Organization, Management of Human Services and Social Policy and Evaluation, and means for students to obtain their degree as few as 12 months, the University of Michigan is a great match for most. Plus they offer the option for students to participate in the Peace Corps Master's International program in which a student can offer serive overseas while completing their graduate degree. In the days since the University of Michigan became the first college in the Northwest Territories available to the public in 1817, it has grown to be one of the most highly recognized, greatly respected schools in the U.S. It's MSW programs and other degree offerings have been accredited by the Higher Learning Commission for many years. And as a consistently ranked Top 10 Research Institutions in the US, the University of Michigan is often a first choice for those with aspirations to enter the social work field as professionals. School tuition for Michigan residents is about $23,973. Non-resident tuition is $38,167.
For more about the University of Michigan's MSW Program, go here
4. University of California at Berkeley

The University of California at Berkeley has offered graduate candidates access to one of the oldest MSW programs in the country. Since 1944, its School of Social Welfare has consistently grown to become one of the 7th best social work programs in the United States. In fact, 48 of the UCB's 52 programs rank in the top 10 of the nation. The school offers a special field placement program and a highly productive faculty. The school's MSW concentrations include: Management and Planning, Gerontology Services, Health Services, Community Mental Health Services and Child and Family Services. UC Berkeley is accredited by the Western Association of Schools and Colleges. California residents will pay a tuition of $5,610 per semester and non-residents will pay $13,161 per semester.
For more about the University of California at Berkeley's MSW Program, go here
5. Columbia University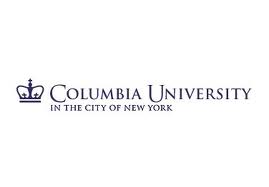 Columbia University, located in New York City, was founded in 1754 and is the fifth oldest institution of higher education in the United States. The Columbia University School of Social Work offers concentrations in Advanced Clinical Social Work Practice, Advanced Generalist Practice and Programming, Policy Practice and Social Enterprise Administration. Completion of each program requires two years of study and takes a multidisciplinary approach to the social work with research, field work and lectures all important aspects of the program. The MSW program at Columbia has been consistently ranked fifth by U.S. News for Social Work programs and has been accredited by the Middle States Commission on Higher Education. Tuition for a MSW graduate program at Columbia is $36,944.
For more about Columbia University's MSW Program, go here
6. University of Michigan in Ann Arbor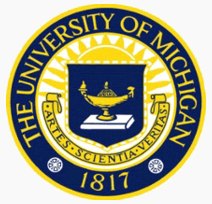 The University of Michigan's mission for their Social Work programs are about creating change in the world and moving society to a better place. Their desire to mold students into professionals who empower society to stand up for what is right and eliminate negative social conditions is as strong as the rich academic history which has propelled the school to what it is today. This university is unique in that it offers a variety of concentrations, including health, community organization, interpersonal practice, mental health, aging in families and society, and community and social systems. They also have the option for a dual degree in the Master of Social Work/Juris Doctor. Tuition for out of state graduate students is $9,552 for 12 credits and in state graduate students is $7,455 for 12 credits.
For more about the University of Michigan's MSW Program, go here
7. University of Georgia

The University of Georgia was established in 1801 when Georgia became the first state to charter a public college. Today it is accredited by the Commission on Colleges of the Southern Association of Colleges and Schools. Located in Athens, the University of Georgia offers an MSW program that is accredited by the Council on Social Work Education. UG has been ranked as the 37th best school for graduate social work in the country. The university offers two concentrations: Clinical Practice and Community Empowerment and Program Development. Georgia residents pay $10,262 in tuition. Non-residents pay $28,472 in tuition.
For more about the University of Georgia's MSW Program, go here
8. Rutgers University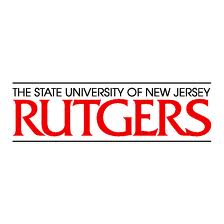 Rutgers University was chartered in 1766. Initially, it was a school for men. Women were allowed to attend 1918. The largest program at Rutgers is its program in Social Work, which is ranked by U.S. News as number 26 in the country. It is accredited by the Middle States Commission on Higher Education. The program focuses on both private and public sector work that students may perform when they graduate. Students can obtain this degree at the campuses in Camden, Newark, or New Brunswick. Graduate students may also choose to focus on Clinical Social Work or Nonprofit and Public Management. Both concentrations require field work, putting students in positions to apply their studies. Tuition for Rutgers students is $10,718 per year.
For more about Rutgers University's MSW Program, go here
9. Boston College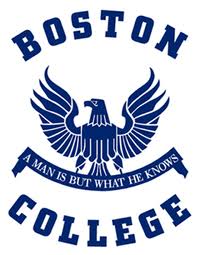 When Boston College opened in 1864, the staff originally taught only the Classics. Over the years, the College has grown to become the 10th Best School for Social Work within the U.S. per the U.S. News and World report. In terms of the MSW programs available at Boston College, the school offers four concentrations including: Children, Youth and Families; Global Health; Health and Mental Health; and Older Adults and Families. Students in each of these specialization gain essential theories in the classroom and then apply them through work experiences in their chosen career path. Most MSW programs require a two to four year time investment so students can either participate in part or full time studies. They also have the option of a dual degree in social work and law, social work and business or social work and ministry. This university is accredited by the Commission on Institutions of Higher Education of New England. Tuition for Boston College is $1,012 per credit.
For more about Boston College's MSW Program, go here
10. State University of New York at Albany
The State University of New York at Albany (SUNY Albany) is a leader in terms of one of the most affordable universities for graduate level social work education in the U.S. With a faculty that ranks within the top five percent in the country for their research contributions, SUNY Albany's dual degree Master of Public Health – Master of Social Work program stands above the rest. It's school of Social Work offers only programs accredited by the Council on Social Work Education. Best of all, SUNY Albany's rich history of diversity, with students and faculty coming from 100 different countries, plus a multitude of course offerings and educational experiences to enhance learning. Tuition is $11,295 per semester for in state graduate students and $19,775 for out of state graduate students.
For more about SUNY Albany's MSW Program, go here
Related: