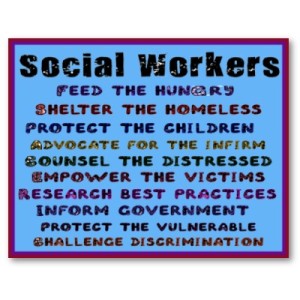 The degrees available in social work vary based on the educational level and degree attainment of the student. Today's most popular options include the bachelor's degree in social work, or BSW; the master's degree in social work, or MSW; and the doctoral program in social work, abbreviated either as DSW or a simple Ph.D. A Licensed Clinical Social Worker certificate, or LCSW, is available to those who a graduate-level education or higher.
The Bachelor's Degree in Social Work

The foundation of any successful career in social work begins at the undergraduate level, as students work toward their bachelor's degree in social work. The first three semesters of this course of study typically include general education requirements in the sciences and liberal arts. After several semesters of meeting university-wide graduation requirements, social work students will split off into their major and concentration area, focusing on areas relevant to the occupation.
This will require several courses in psychology and sociology. It will also entail at least one course that focuses exclusively on at-risk populations that are most likely to require the services of a social worker. Students will take time to learn about addiction and abuse, and the ways that social work can be used to keep clients on track and guide them toward making better, more sensible choices. Social workers will learn about the psychology of at-risk populations and risky behavior, and they'll learn how to use their position to guide their clients toward a brighter future without direct intervention or behaviors that fall outside the ethical bounds of the occupation.
At the Graduate Level, a Focus on Supervisory and Medical Positions

The health services industry typically requires social workers to have obtained at least a graduate education, holding an MSW in order to qualify for these more advanced positions. Furthermore, leadership positions typically require job candidates to have an MSW before they'll be considered for this higher-ranking job within the broader social work field.
MSW programs build on the undergraduate foundation, but they focus more exclusively on social services policy and regulation, occupational ethics, social work leadership theory, and practical execution of these skills. The average MSW program requires at least 900 hours of supervised instruction on the job in a social work capacity, which will be assessed, critiqued, and graded, based on the candidate's use of their skills gleaned from graduate-level coursework.
Doctoral Programs Focus Heavily on Research and Analysis

While graduate programs are designed to prepare social workers for careers in leadership and healthcare environments, the doctoral level of study is focused primarily on research. Those pursuing their doctorate will focus on a very narrow field of study and research, spending their time with the university in order to test and prove a hypothesis. This research is designed to further the field of social work itself, and the doctoral program at large is dedicated to producing candidates who can go on to teach collegiate courses, take on executive positions within social work organizations, or perform further research and policy analysis as a full-time occupation.
Doctoral candidates are also more likely to obtain their LCSW certification, preparing them for the ability to perform social work in a clinical setting. This is most often required when a combination of clinical services and social work oversight are required for a single patient, and it's often the type of social work that deals with the toughest cases and the most deeply at-risk populations.
All Three Levels of Study Have Unique Benefits

The great thing about social work is that each degree has a unique purpose for graduates. Those with a BSW are prepared for a broad range of entry-level positions, while the healthcare and leadership positions serve as the primary emphasis of the MSW degree. At the DSW level, graduates learn more about research, analysis, teaching, and executive leadership. All three degrees, when taken together, create a well-rounded professional who will be highly effective with virtually any case, client, or at-risk population.
Though some people choose to enter the profession with a bachelor's degree in psychology, sociology, or other fields, though many employers seek graduates with a bachelor's degree in social work as the best qualification for entry-level job applicants. Others may find it beneficial to pursue graduate-level education in this field, including work at the master's degree level as well as at the doctoral level.