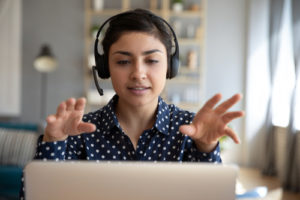 A Crisis Creates a Natural Experiment
Technology-Based mental health service delivery uses telephone and online therapy to provide previously in-person services. The coronavirus crisis in this country is going to result in the largest natural experiment in the delivery of technology-based mental health services the field has ever seen. In late March of this year, thousands of behavioral health practices in the US began transitioning from in-person therapy to telephone and online treatment. This has not been an easy transition for practitioners because new technology, training, and protocols have often been needed to make this transition. In addition, it has been a challenging transition for practices that never used technology-based therapy services, but they are making it work. This natural experiment will give us a lot to think about related to the future of mental health technology.
Not only are mental health providers all over the country stepping up to the challenge of transitioning to technology-based mental health services, but many are also offering these services on a volunteer basis. For example, in late March, New York's Governor Andrew Cuomo sent a letter to all licensed mental health therapists in the state asking for volunteers to provide tele mental services to New Yorkers trying to cope with the trauma of the public health threat, job loss, family upheaval, and institution-wide closures. Over 6,000 licensed mental health professionals heeded the call and committed to helping staff the state's emergency mental health hotline.
---
Filling a Gap in Services
Before the crisis, interest in technology-based mental health service delivery grew because of unmet mental health service needs across the country. For example, those living with physical disabilities, who lack access to easy transportation, or who live in sparsely populated rural areas with few to no behavioral health providers need more access to behavioral healthcare, and technology-based mental health care was starting to be viewed as the cure to a severe problem.
According to Mental Health Americans, over fifty percent of Americans with any mental illness (AMI) cannot access care. People in certain states in the US, many in the southeast, for example, have more difficulty accessing care. ThIn addition, mental health care costs prevent many Americans who lack health insurance, or adequate mental health coverage, from accessing care. The lack of treatment for specific disorders in certain regions is another challenge: the scarcity of mental health providers, including psychiatrists. A lack of providers is especially a problem in some rural areas and low-income urban areas across the country.
---
Barriers to Implementation
There are some critical barriers to adopting technology-based mental health service delivery for many providers, including not having funds to invest in technology and training, concerns about effectiveness, and concerns about client confidentiality. As a result, providers often need to purchase special software to provide remote psychotherapy. This software enables providers to integrate the delivery of remote therapy sessions, electronic recordkeeping, HIPPA compliance, and payment. Telemental Health Comparisons provides a comparison of leading tele mental health software products.
If a practice does not immediately have the software funds or train providers, they may transition in stages. There are some government and private grants that can help providers make the transition, but competition for funding will be very high at this time. There are also government-sponsored training programs to support providers in expanding or offering online therapy.
Another barrier to implementation is resistance to change and questions about the efficacy of remote therapy. For example, some therapists worry that they will not observe a person's body language and affect effectively without having a client in front of them. Others are not confident about using remote therapy technologies.
---
Security and Ethical Concerns
Some providers also have ethical concerns about security and confidentiality in delivering therapeutic services remotely. Providers must ensure their computers and internet connection are secure to prevent a client data breach. Software programs can help ensure the practice conforms with HIPPA and that online records are safe. In addition, ethical guidelines related to the delivery of technology-based therapy and the electronic storage of documents must be followed. The National Association of Social Workers Code of Ethics has been updated to provide guidelines on using technology in clinical social work (see ethical standards).
Despite these challenges, some practitioners who were forced to switch to technology-based service delivery in a hurry have found their clients are adapting well to technology-based mental health services. In some cases, they are even more engaged in using these new modalities. For example, Joanne Iorio, LCSW-R, is an experienced private practitioner based in Queens, NY. She quickly switched to telephone-based appointments when the pandemic hit NY in mid-March.
This was her first-time-ever meeting with clients by phone, and she noticed something interested. She explained, "despite the negatives of initiating a brand-new relationship with a client exclusively by phone, surprisingly, some clients seem to open up more on the telephone!" She said she's unsure if this increased sharing is because clients are more comfortable in a non-clinical, home environment or are more comfortable talking over the phone. Whatever the reason, she said, the comfort level and quality of sharing via this modality were unexpected.
---
Different Modalities for Delivering Technology-Based Mental Health Services
Technology-based mental health services include teletherapy (conducted by phone), therapy delivered via video conference, and treatment and services delivered via apps, texting, or chatting. Services are provided by individual therapists, behavioral health practices, or online companies. There has been a proliferation of online companies that offer easy access to mental health counselors whom you can chat with online or meet with via phone or video conference. Consumers pay for a bundle of appointments or pay a set fee per week. Online Medical Care has ranked its choices as the top five online mental health providers.
---
Challenges with Online Mental Health Services
There are some challenges with online mental health services as well. For example, some online therapy providers have said clients sometimes stop responding to their messages. Others have said they do not have enough time or find it difficult to establish an effective therapist-patient relationship via texting, chatting, or online meetings. Inter-jurisdictional issues also arise when providers are asked to work with clients from other states where they are not licensed.
There also has been a proliferation of apps designed to help users manage anxiety, panic attacks, and other mental health problems through step-by-step relaxation techniques, psycho-education, or personalized recovery plans. For example, Chatbots may simulate check-ins with a therapist. These apps can be conveniently accessed on various mobile devices, but there are concerns about these apps' effectiveness.
---
The Effectiveness of Mental Health Technology
Technology-based mental health services have been around for longer than people realize. For example, "telepsychology" has been around for several decades and was initially pioneered and widely used within the military. But are technology-based mental health therapy as effective as face-to-face therapy? A growing body of research suggests that remote and online therapeutic services live up to their promise.
Online and remote mental health services have expanded access to care for specific groups such as young people, who have expressed a preference for online services, and veterans. For example, online counseling can be a gateway to more intensive, in-person treatment if needed for young people. For veterans, online counseling can be a lifeline. "A four year Johns Hopkins study that included close to 100,000 veterans found the number of days patients were hospitalized dropped by 25 percent if they chose online counseling."
New online apps guide consumers through breathing exercises, provide psycho-education, and use chatbots. And there is promising data, but it is more mixed. One app was found to deliver measurable improvements among college students. However, these students were not officially diagnosed with depression or anxiety. Not all apps use evidence-based techniques, and this is a concern.
An article on mental health apps found four specific features that make certain apps more practical for use. These features include high patient engagement and a simple user interface and experience. Additionally, apps have the ability to address several different diagnoses through one program. This feature allows users to self-monitor their mood and emotions through regular reporting of their thoughts, behaviors, and also actions.
---
The Future of Mental Health Technology
The Anxiety and Depression Association of America provides a list of telehealth mental health providers by state on its website. Tele mental healthcare offers excellent promise for greater access to mental healthcare in the US and worldwide. We may not fully assess the benefits of these new modalities for several years. But, recent studies and consumer feedback indicate they have a positive impact.
---
More Articles of Interest: