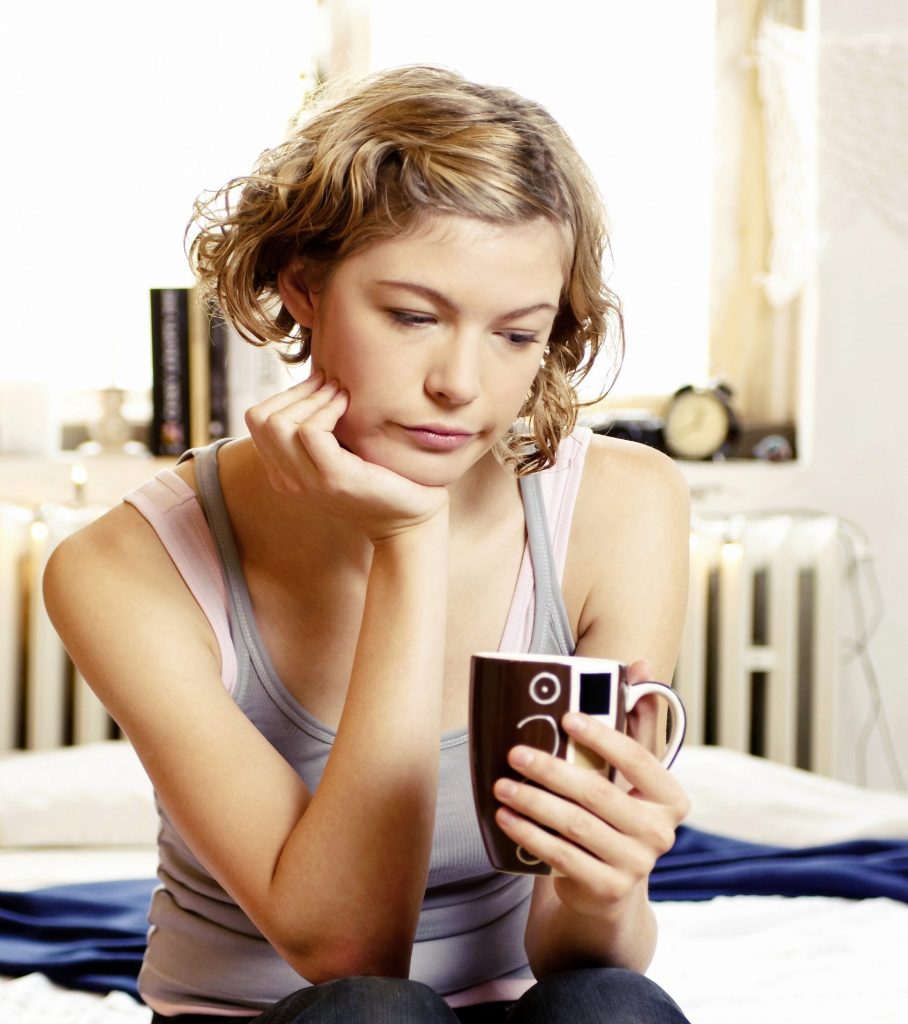 Suicide Prevention in Social Work includes understanding risks and educating patients, families, and the public about suicide. Social workers have a critical role to play in preventing suicide in this country. They deliver suicide prevention programs and information to students, emergency room patients and their families, veterans' groups, and first responders.
How Social Workers Can Play a Role In Suicide Prevention?
In addition, they can work at suicide prevention hotlines, provide therapy and manage suicide prevention programs, and help gather research data. According to the National Institutes of Mental Health (NIMH), suicide was responsible for the loss of 47,000 people in 2017. That is an alarming number and sadly much work remains to end this epidemic.
---
Understanding Suicide Statistics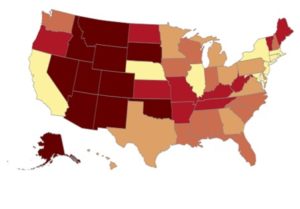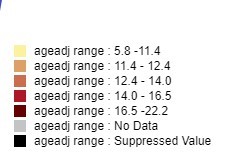 According to the Centers for Disease Control (CDC) over the past ten years suicide has been among the top five leading causes of death for Americans in the following age groups: 10 to 14, 15 to 24, 25 to 34, 35 to 44, and 45 to 54. For the first three age groups, suicide was the second leading cause of death in 2017. The older adolescent group also had the highest total percent of individuals (about one in ten) who had suicidal thoughts over the past year and the highest percent of individuals who attempted suicide.
The overall suicide rate for the U.S. has increased steadily over the past decade and half from a rate of 10.7 in 2001 to a rate of 14.0 (per 100,000) in 2017. This trend has not been seen in other western countries such as Canada and the U.K. In fact, in many wealthy countries suicides have decreased over the past ten to twenty years.
The CDC's Web-Based Injury Statistics Query and Reporting System (WISQARS) allows users to filter data on fatal injuries by cause, location, and also demographics. Exploring the data yields further information about suicide in the U.S. in 2017. Furthermore, the highest age-adjusted suicide rates were in western states not including the west coast (see Figure 1). Men committed suicide at four times the rate of women, but women had more suicidal thoughts and attempts. White Americans had more than double the rate of suicide of Asian Americans, Black Americans, and Hispanic Americans, and Native Americans had a suicide rate five points higher than White Americans.
---
Educating Patients, Families, and the Public about Means
The means of committing suicide have a major impact on lethality. In 2017, more than 50% of men who committed suicide did so with a firearm, while only 31.2 percent of women completed a suicide attempt with a firearm. Poisoning was a much more prevalent means of committing suicide for women than men.
According to Means Matter: A project of the Harvard T.H. Chan School of Public Health 90% of individuals who attempt suicide and fail DO NOT go on to complete suicide. But, with guns, there is usually no second chance as 85% of suicide by firearm are fatal. Additionally, there is often greater impulsivity involved in the decision to commit suicide by gun. Surprisingly, many individuals who use a gun to commit suicide do not suffer from mental illness. Rather, the impulsive act of committing suicide by gun may follow an argument or break up.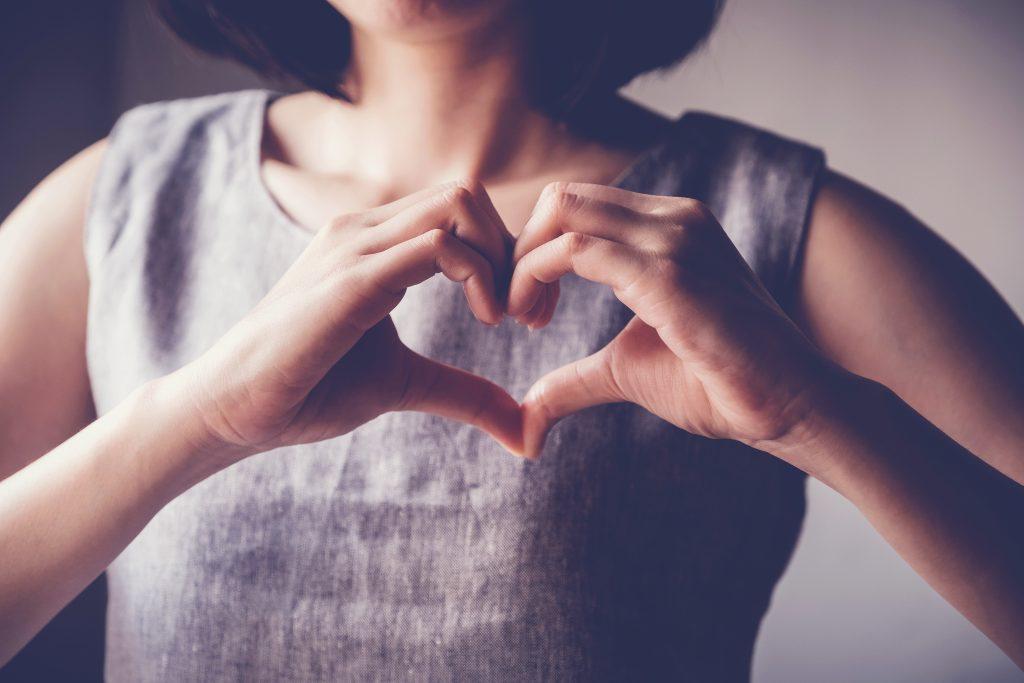 ---
Understanding Risk
Social workers need to understand suicide to develop effective prevention approaches. A first suicide attempt is a warning sign. A diagnosis of major depression, bipolar depression, or another serious mental illness is a risk factor as well. Additional factors include having experienced psychological trauma in one's life, substance abuse, and a family history of suicide.
Social workers have an important role to play in counseling patients and families aboutfactors related to means of suicide as well. For example, household gun access triples the risk of death by suicide. Social workers need to understand demographic risks as well. For example, white men and veterans commit suicide by firearm at very high rates. Furthermore, suicide by firearm among young children who have been bullied or who have mental health problems is also becoming more common.
---
Delivering Evidence-Based Therapies and Programs
Suicide can be effectively prevented through therapy and/or medication. Therapies that are effective in preventing suicide in suicidal and/or depressed patients are dialectical behavioral therapy and cognitive behavioral therapy. Common psychotropic medications to treat depression can also decrease suicide risk.
According to the CDC, "personalized safety planning" is an evidence-based approach to preventing suicide. For patients with suicidal thoughts or who have gone to the emergency room due to a suicide attempt, a PSP can reduce the threat of future attempts by educating patients and their families about "ways to limit access to lethal means such as firearms, pills, or poisons. The plan also lists coping strategies and people and resources that can help in a crisis." Routine screening for suicidal thoughts and behaviors in emergency rooms and for high-risk populations such as incarcerated individuals is another effective approach to preventing suicide.
---
Social Workers Role in Preventing Suicide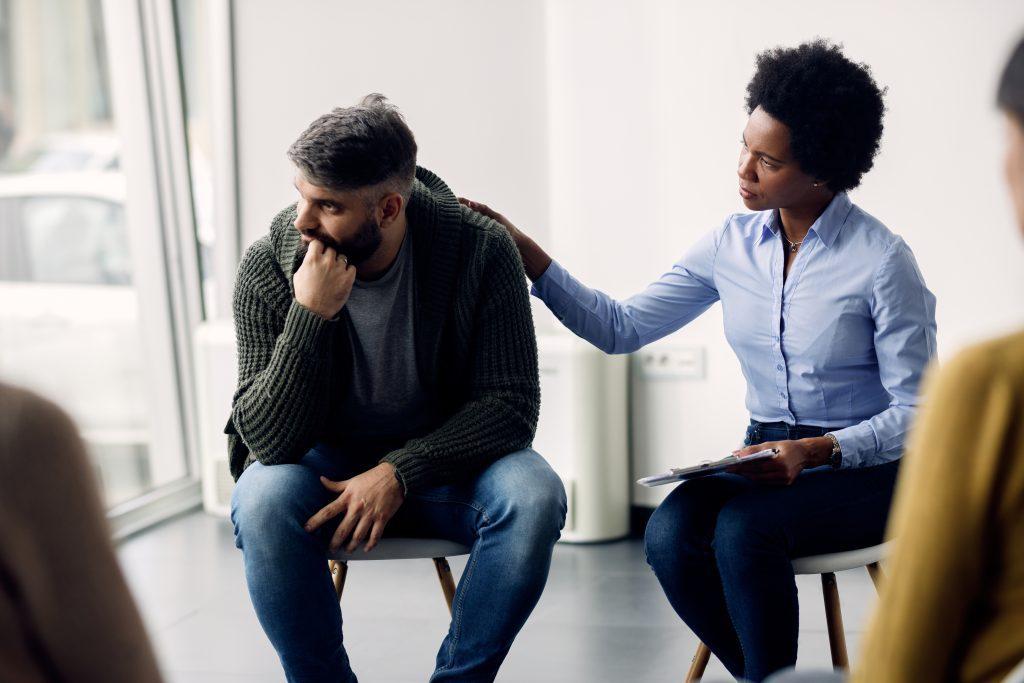 Social workers play an important role in preventing suicide among youth by delivering universal, targeted, and individual prevention programs to middle school and high school students. According to the Suicide Resource Prevention Center (SRPC) evidence-based suicide prevention programs for youth in schools and other settings include:
Adolescent Coping with Depression (CWD-A) (cognitive behavioral treatment)
Problem-Solving Therapy (PST) (therapeutic)
SOS Signs of Suicide Middle School and High School Prevention Programs (universal)
Family Intervention for Suicide Prevention (FISP) (family therapeutic after ER visit)
Attachment-Based Family Therapy (ABFT) (therapeutic)
Kognito At-Risk for High School Educators (online training)
LEADS: For Youth (Linking Education and Awareness of Depression and Suicide) (curriculum delivered in high schools)
Model Adolescent Suicide Prevention Program (MASPP) (rural Native American youth)
Emergency Department Means Restriction Education (suicidal youth ages 6 – 19 and their families)
Lifelines Curriculum (universal)
Multisystemic Therapy with Psychiatric Supports (MST-Psychiatric) (therapeutic)
Emergency Room Intervention for Adolescent Females (targeted)
American Indian Life Skills (AILS) (universal for Native Americans)
CAST (Coping and Support Training) (small groups therapeutic)
Suicide attempts are a serious public health issue and can be preventable with the right risk factors, mental health care, and protective factors in place. Risk for suicide include substance abuse, mental health disorders such as depression and bipolar disorder, family history of suicide, and previous suicide attempts. Protective factors that can help reduce the risk of suicide include a strong social support system, access to mental health care, and connectedness to community, family, and peers.
It is important to recognize the signs of suicidal ideation and take them seriously. Warning signs include talking about death, feeling hopeless or helpless, feeling trapped or in unbearable pain, being a burden, and withdrawing from activities. If you or someone you know is exhibiting any of these signs, it is important to seek help from a mental health professional.
Mental health care can help reduce the risk of suicide attempts by providing effective treatments for mental health disorders and suicidal ideation. Cognitive Behavioral Therapy (CBT) is a type of psychotherapy that can help people learn how to recognize and change negative thought patterns and behaviors. It can help people feel more empowered and in control of their lives. Additionally, CBT allows individuals to achieve their goals at their own pace, which can be helpful in preventing suicide attempts.
Suicide attempts are a serious public health problem, but with the right risk factors, mental health care, and protective factors in place, suicide can be reduced. If you or someone you know is exhibiting any signs of suicidal ideation, it is important to seek help from a mental health professional. Cognitive Behavioral Therapy can be a helpful treatment for suicidal ideation and can help individuals feel more empowered and in control of their lives.
---
Not Being Afraid to Talk about Suicide
Social workers need to use the best assessment tools for assessing suicide risk and receive continuous training on how to talk to patients about suicidal thoughts. Dr. Dana Alonzo, a Professor at Fordham University Graduate School of Social Service, believes many clinicians are uncomfortable speaking to clients about suicide and warns this can drive away patients who need care most. In speaking to clients about suicidal thoughts Dr. Alonzo suggests clinicians:
Create an accepting, safe, non-judgmental space for clients to disclose suicidal thoughts
Maintain a transparent, neutral stance throughout the interview
Consider the number and timing of questions
Convey to the client that alternatives to suicide exist even though they may be hard to identify at this time
Personalize treatment.
---
Working for a Hotline or Crisis Center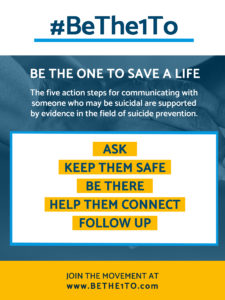 Social workers also may have an opportunity to work for suicide prevention hotlines and crisis centers. The National Suicide Prevention Lifeline (NSPL) provides free and confidential support and information to callers who are routed to professionals working at local crisis centers. The NSPL also has designed a digital outreach project called #BeThe1To which helps educate the public and professionals about how to prevent suicide. Here is a graphic that can be shared through social media or elsewhere:
The NSPL has several resources and guides for professionals including suicide assessment standards and guidelines on follow-up care.
---
Preventing Suicide
Social workers have so many opportunities to prevent suicide in this country including implementing evidence-based programs and therapies. Students who are interested in suicide prevention should identify professors who are knowledgeable about suicide prevention and have some practice experience. They should also seek out fieldwork opportunities that will allow them to gain experience working at a crisis center, hospital, or outpatient clinic.
---
Related: