Social workers are on the front lines of preventing, assessing, and treating substance use disorders. Social work students interested in careers in substance use treatment can do fieldwork in clinics, hospitals, or schools. Social work students often choose this field because they have either struggled with a substance use disorder themselves or have seen family or friends struggle with the disease. The National Association of Social Workers (NASW) has published Standards for Social Work Practice with Clients with Substance Use Disorders which outlines ethical considerations and guidelines on assessment and treatment.
Social workers can serve in several capacities in the field of substance use disorder treatment. They are school and college social workers who counsel students with substance use disorders and they work in outpatient and inpatient treatment clinics and facilities. Furthermore, they work in hospitals and crisis centers. Social workers may also counsel clients battling addiction in their private practices.
Different Types of Substance Use Disorders
Individuals can become dependent on many different substances including alcohol, illegal drugs, and prescription medications. Illicit drugs people can become dependent on include cocaine, crack cocaine, hallucinogens, ecstasy, heroin, and methamphetamine. People also become dependent on prescription drugs including opioids.
The use of heroin and prescription opioids has been at the forefront of news reporting on substance use disorders over the past decade, but there are other types of substance use disorders that do not get as much attention.  For example, alcohol and marijuana dependency are very common in the U.S. but their use is not always spoken about with the same sense of urgency as heroin and opioids. In the United States, rates of liver disease have increased in the middle-age population due to the prevalence of alcoholism. The Centers for Disease Control reports that "from 2000 to 2015, death rates for chronic liver disease and cirrhosis in the United States increased 31% (from 20.1 per 100,000 to 26.4) among persons aged 45–64 years. Rates in that age group increased 21% for men (from 29.8 to 36.2) and 57% for women (from 10.8 to 17.0)".
Marijuana dependency has increased as well, but because marijuana has been destigmatized through legalization, addiction to marijuana products or compounds has not received the attention that perhaps it should. Another less frequently discussed substance use disorder involves the inhalation of chemicals from aerosol cans or household cleaners. Children and teens often choose to get high from inhaling because the products are easy to obtain.
Opioid Use Disorders
The rate of dependence on opioid medications increased exponentially over the past two decades because they were being prescribed quite frequently to treat pain. Many patients were not warned about the highly addictive nature of these medications and some pharmaceutical companies that produced them used unethical means to increase their use. Some of these companies have been successfully sued in court.
Here are some disturbing statistics about the opioid dependency crisis in the U.S. from the CDC: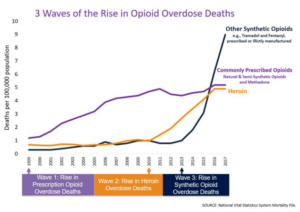 From 1999 to 2017, more than 700,000 people died from a drug overdose.
Around 68% of the more than 70,200 drug overdose deaths in 2017 involved an opioid.
In 2017, the number of overdose deaths involving opioids (including prescription opioids and illegal opioids like heroin and illicitly manufactured fentanyl) was six times higher than in 1999.
Medication Assisted Treatment (MAT) is now the standard recommended treatment for opioid use disorders. According to SAMHSA, MAT is a "whole person" approach to recovery that includes psychotherapeutic counseling and medication such as methadone or naltrexone. Social workers are trained in delivering the psychotherapeutic side of MAT and are trained to administer lifesaving drugs such as Noloxone (Narcan) to individuals experiencing an overdose.
The National Association of Social Workers (NASW) provides resources for social workers who are on the front lines of fighting the opioid use crisis in this country. Social workers who provide treatment to clients facing opioid addiction are trained to take a non-punitive, supportive stance in providing treatment.
Evidence-Based Psycho-therapeutic Approaches to Treating Substance Use Disorders
There are several different approaches to treating substance use disorders including psychotherapy, psychotropic and other medications, and twelve step programs. Social workers use a number of evidence-based therapeutic interventions to help clients overcome substance use disorders including cognitive behavioral therapy, motivational interviewing, and multidimensional family therapy (MDFT). Certain subpopulations such as adolescents or older people respond better to particular evidence-based psychotherapies. For example, adolescents respond well to family therapy to help them overcome a substance use disorder. MDFT can be provided within the family home or in a clinical setting and includes the provision of delivered in the home and address many dimensions of a teen's disorder including emotional or mental health challenges.
The Substance Abuse and Mental Health Services Administration (SAMHSA) under the U.S. Department of Health and Human Services provides a resource list of evidence-based psychotherapies used to treat substance use disorders. The National Institutes of Health, National Institute on Drug Abuse also provides valuable resources for social workers working in the field.
Co-Occurring Disorders
Many individuals battling addiction have a co-occurring disorder (often referred to as a dual diagnosis) which means they have a mental illness and a substance use disorder. Experts have come a long way in understanding co-occurring disorders and how to treat them. Patients with a dual diagnosis will often be treated with psychotropic medication and psychotherapy. The National Alliance on Mental Illness provides resources on its website about co-occurring disorders and their treatment.
SAMHSA Resources
SAMHSA is an excellent source of information about substance use disorders, co-occurring disorders, and their treatment. They provide numerous grants to organizations and universities to implement best practices and continue studying substance use disorders. For the general public they have a national hotline and a directory of local clinics and centers where Americans can get help. Their National Helpline is 1-800-662-HELP (4357), (also known as the Treatment Referral Routing Service) or TTY: 1-800-487-4889. It is confidential, free, and in service 24 hours a day, every day of the year. Information and referrals are provided in English and Spanish.
Social workers are playing a pivotal role today in treating substance use disorders. They develop individualized treatment plans for clients, while also looking at the context of their clients' substance use in their larger social ecosystems. Social workers are expected to be advocates for those with substance use disorders and to remain informed on changes in government funding, programs, and approaches to addressing substance use disorders. Social workers are included in inter-professional teams that treat individual patients and develop programs to stem the use of substances in society.
Stephanie Bosco-Ruggiero
B.A. Political Science| Vassar College
M.A. Urban Affairs | University of Delaware
Social Policy | Fordham University Graduate School of Social Service Doctoral Program
March 2020
More Articles of Interest: