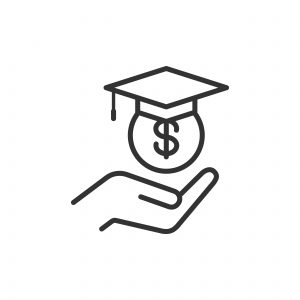 Finding scholarships for Social Work degrees may be the reason some are able to earn a degree. Becoming a social worker to care for your community's most vulnerable people in times of need can be startlingly expensive. Inside Higher Ed reported that tuition has risen 3.2 percent at public and 2.4 percent at private colleges since 2007.
Published annual costs currently average $11,814 and $34,740 respectively. As if multiplying those figures by four isn't scary enough, most BSW majors tack on additional time for a Master of Social Work. Getting certified even charges extra with ASWB Exam rates of $230 to $260 each try. However, financial aid helps reduce the amount you have to pay out-of-pocket. In addition, scholarships will donate free money toward your human services preparation to maximize the median annual wage of $44,539 on PayScale later. In this article, we'll explore the five best places where you can find scholarships for a social work degree that won't break the bank.
---
1. Professional Associations
Social work professional associations are known for giving networking advantages, but you can also unlock college tuition awards if you join. The National Association of Social Workers (NASW) currently offers its 320,000 members 16 funds. For example, the Consuelo W. Gosnell Memorial Scholarship gifts $4,000 yearly to 10 MSW students following the Ciudad Juarez natives' footsteps working with Hispanic/Latino persons.
The Association of Oncology Social Work (AOSW) presents the Betty Vargo Palliative Scholarship. The award of $1,000 to MSW majors focused on end-of-life hospice practice. The Council on Social Work Education (CSWE) awards the Minority Fellowship worth $6,500 to full-time, direct-practice MSW students of diverse races with a 2.5-day Alexandria conference. In addition, each state NASW chapter offers programs like Alabama's Torchbearer Scholarship and Delaware's MSW Scholarship too.
---
2. Health Care Providers
Clinical social work jobs are poised for 20 percent growth by 2026, so it's unsurprising that many medical facilities are supporting new talent with financial aid. For instance, Holland Hospital would let Michigan residents within 18 months of MSW completion claim the $2,000 Volunteer Auxiliary Scholarship. A Place for Mom donates $1,000 to its Senior Wisdom Video Scholarship competition where BSW or MSW majors record two minutes speaking their gerontology practice goals.
Located in Greenfield, Indiana, Hancock Hospital has a March 1st deadline for its $2,000 Health & Wellness Scholarship that labels social work an eligible field. Massachusetts General Hospital, the U.S. News & World Report's #1 pick, started the $750 Tufnell Park Scholarship Fund to discount nursing or social work tuition. Similar options are available at Grant Memorial Hospital and MetroWest Medical Center.
---
3. Community Foundations
Looking local at public charities in your city or metropolitan area could unearth plenty of social work degree scholarships. For example, the Winston-Salem Foundation started the $1,700 Marcus Raper Zimmerman Scholarship in 1984. This award helps undergrads like BSW majors serve the physically disabled. Until April 1st, West Michiganders apply to the Grand Rapids Community Foundation for its $1,000 Jackie Klinesteker Minority Scholarship that also requires mental health career objectives.
Ranging from $600 to $6,000, the Hampton Roads Community Foundation bolsters Virginians with funds like the Victor & Ruth H. Goodman Memorial Scholarship for Clinical MSW students. Honoring Julia Villarroel, the Silicon Valley Foundation has the $12,000 Social Justice Scholarship for Palo Alto natives active in both immigrant services and attending a full-time bachelor's. Other possibilities include the Maine Community Foundation, Triangle Community Foundation, and also Kosciusko County Foundation.
---
4. Faith-Based Church Organizations
Religious denominations follow God's call of giving by helping congregants afford four-year collegiate training for human services careers. For instance, Bethesda Lutheran Communities devotes $30,000 yearly to 10 Scholastic & Service Scholarships that could suit BSW majors specializing in disability services. On May 15th, the Presbyterian Mission closes the $3,000 Opportunity Scholarship. This award is for bachelor's students with both GPAs above 2.5 and social service goals.
Founded by Dr. Aaron Friedenwald, the Jewish Community Center has a $10,000 Graduate Scholarship open to MSW majors agreeing to work in the JCC Movement for 24 months. Social work is one qualifying major for the Islamic Scholarship Fund, which has given $857,100 to 280 Muslims since 2009. Also, check out the Knights of Columbus' John W. McDevitt Scholarship for Catholics and the Abyssinian Baptist Church Scholarship.
---
5. Scholarships For Social Work at Colleges and Universities
The CSWE-accredited educational institution where you're pursuing your social work degree is perhaps the most obvious financial aid source. For example, the Ram & Usha Singh Scholarship awards up to $4,000 total to upper-division BSW or MSW majors at Grand Valley State University who are non-U.S. citizens. At Dominican University, the $2,500 Davlin Family Scholarship in Aging helps MSW students with minimum of 3.5 GPAs and internships with older adults.
Junior Bachelor of Social Work majors at the University of Iowa must submit three-page essays by April 13th for the $4,000 Jean H. Winter & Robin Odem Award. Missouri State University grants the $750 Liliana Sanchez Memorial Scholarship for minority MSW students taking 6+ credits in Joplin. Funding is abundant at West Virginia University, Boston University, Loyola University Chicago, CUNY Hunter College, and many more.
---
Finding Your Scholarships For Social Work
Other nonprofits have stand-alone social work degree scholarships that don't really fit any of the above categories. Use Google or tools like Peterson's to find these opportunities, such as the George Foundation Scholarship, Dr. Alma Adams Scholarship, Jackie Spellman Scholarship, Emerson-Hoopes Scholarship, Ima Hogg Foundation Scholarship, Davis-Putter Scholarship, Roothbert Fund, and also Patty Gibbs-Wahlberg Scholarship.
Whether you are looking for a BSW or MSW scholarship, an accelerated MSW, or a traditional MSW degree program, there is a scholarship for you. You just need to find it!
---
Related: