Our e-Cigs Smoke Without Fire infographic questions whether e-cigarettes are a safer, cheaper alternative to smoking cigarettes.

Share this infographic on your site!
---
e-cigs Infographic: Smoke Without Fire
You've seen them around, now find out all the hype on electronic cigarettes. Are e-cigs a safer, cheaper alternative to smoking cigarettes?
Up In Smoke
45 million smokers
2.5 million e-smokers
Nearly $2 billion – 2013 e-cig retail sales
$10 billion – Estimated retail sales of e-cigs by 2017
$60-$15 – Price range for a starter kit
10 million – Disposable e-cigs sold weekly in the U.S.
What About The Users?
Who is smoking e-cigs? Are people using e-cigs as a useful smoking cessation method? Is it successful and safe?
Female e-cig smokers 60.5%
Male e-cig smokers 39.5%
Users who live in southern states 33%
Users who reside in northeast states 19%
Users who have smoked an e-cig for less than six months 57%
Users currently continuing to smoke regular cigarettes in addition to e-cigarettes 82%
Do E-Cigarettes Help Smokers Quit?
62% – E-cigarette smokers who state they have stopped smoking cigarettes or smoke fewer cigarettes since starting e-cigarettes
34.3% – Users who reported quitting smoking cigarettes who also discontinued the use of electronic cigarettes
How Does It Work?
Take a look at an e-cig and see what's inside:
LED: Lights up when a user takes a drag
Battery: Can last up to 11 hours with some models
Microprocessor: Controls heater and lighter
Sensor: Detects when a smoker takes a drag
Heater: Vaporizes nicotine
Cartridge: Holds nicotine dissolved in propylene glycol
What Are The Laws?
Where can you smoke e-cigs? Is it legal to smoke them in public places or even on airplanes? Let's find out which states have restrictions on e-cigs and what those restrictions are.

State Law
Arkansas Prohibited on school district property.
Colorado Prohibited on school district property unless approved by FDA as a cessation device.
Delaware Prohibited in all state workplaces, including outdoor spaces and surrounding grounds. (Includes parking lots and state vehicles operated on state workplace property.)
Kansas Prohibited on all department of corrections property/grounds for employees/inmates.
Maryland Prohibited MARC commuter rail system trains.
New Hampshire Prohibited in public educational facilities and surrounding grounds.
Oklahoma Prohibited in all department of corrections facilities including vehicles and grounds.
Oregon State agency employees are banned from using in agency buildings/grounds.
South Dakota Prohibited in the department of corrections facilities/grounds by employees/inmates.
---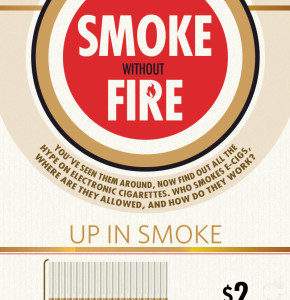 ---
Related Infographics: