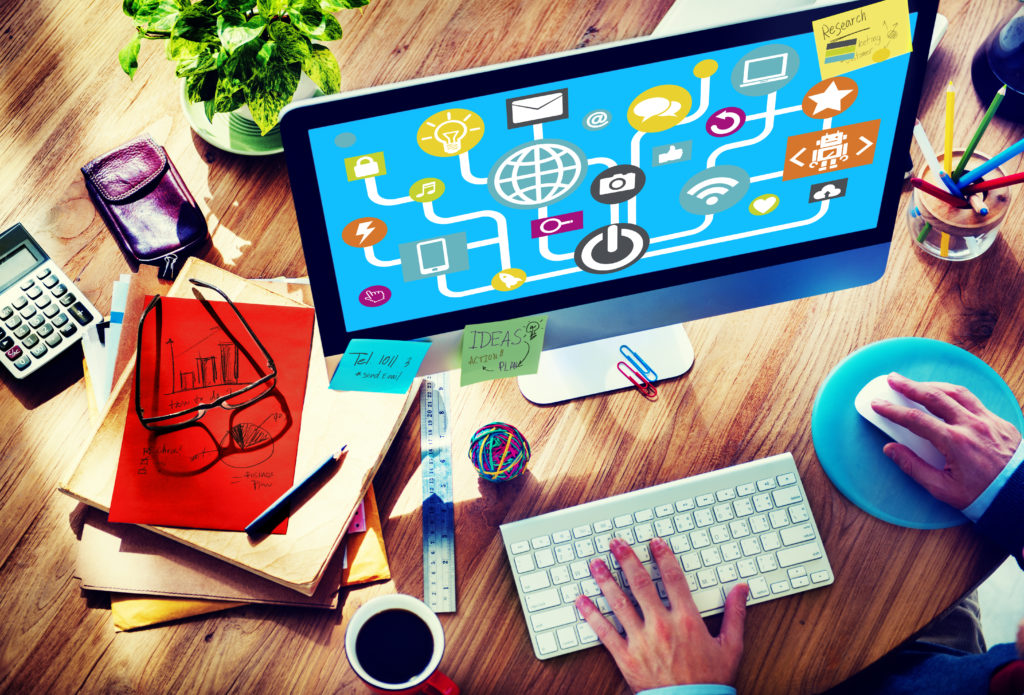 These 15 crucial tools for social workers are extremely handy for your day-to-day Social Work practice and will make your life easier! Social work can be extremely hectic. Work spanning multiple disciplines, high caseloads, working through government agencies and a complex network of forms can begin to take their toll.
Luckily for social workers–much like in education and health care settings–, there are quite a large number of apps that are extremely handy for day-to-day practice, especially evidence based practices. Check out our 15 favorite apps and tools for social workers below!
---
1. The Savvy Social Worker App tool for social workers
This app, developed by the University of Buffalo School of Social Work aggregates new developments in social work practice, as well as practice research findings into one place in an e-reader format. Select from different social work-related "channels" you would like to follow and they'll update on their own. Key sources included in the Savvy Social Worker stream include SAMHSA, the Cochrane Collaboration, the Campbell Collaboration, and Information for Practice.
---
2. ASWB Social Work Flashcard Apps
iOS App // Android App
This Association of Social Work Boards Exam prep app offers over 1100 pre-made flashcards. These study cards are grouped into ten topics including human development and behavior in the environment. They also cover issues of diversity, communication, professional relationships, professional values and ethics, supervision, new developments, news feed, positive psychology, administration and policy, assessment, diagnosis and intervention planning, service delivery, practice evaluation and the application of research, and clinical exams. Other flashcard sets may be imported and features like custom color schemes and text to speech are available for the premium version.
---
3. Suicide Safety Ap by SAMHSA – tools for social workers
This app was created by the Substance Abuse and Mental Health Services Administration (SAMHSA) with the aim of helping to increase the ability to locate individuals who are suicide risks, start conversations, and locate applicable treatment options. The app teaches the SAFE-T approach, gives example case studies, news feed, missing children, contains a number of fact sheets and treatment resources, provides conversation starters, and locates treatment options.
---
4. Social Work Field Guide – tools for social workers
The Social Work Field guide is a community-driven app for social workers that contains over 50 pre-loaded social work resources. Add your own resources to the mix and then submit them to help establish future updates. Resources are separated into topics such as children, teens, adults, older adults, and general. This is such a great app that works with several multi disciplinary teams.
---
5. TapTapSee App – tools for social workers
Yep, the name's pretty descriptive for this app for the blind and visually impaired. This app allows users to double-tap the screen to take a picture–from any angle–of a large number of objects, TapTapSee then notifies the user what they've taken a picture of. The aim of the app was to help the blind and visually impaired become more independent in their daily lives. In the words of cultofmac.com, it's "like a sighted assistant that never grows] tiered of you asking 'what's that?'"
---
6. The Cochrane Library Evidence-Based Practices
The Cochrane Library provides independent evidence for health care decision-making presented through a variety of media types including summary versions, podcasts, slide sets, and videos. A color-coded menu system lets users choose the type of health concern they're trying to gather information about (child health, mental health, heart & circulation, etc.) and cutting-edge research, especially evidence based practices. Articles may be downloaded in PDF, and html links allow users to share where they are in the Cochrane Library.
---
7. Google Translate – tools for social workers
This one's just common sense, but also worth noting as it's a free tool that has drastically increased in translation quality over the last few years. Many social workers are exposed to patients from a number of nationalities, many times not all speaking the same language. Google translate offers support between 90 languages, takes input with your voice, camera, keyboard, or handwriting, and allows you to save translations and access them from any device. The best part, is no internet access is required.
---
8. Calm Counter – Social Story and Anger Management App
Calm Counter is a social story and anger management tool that was originally built for children with autism and other conditions that make it difficult to calm down but can be great for any distraught child. The app offers two modes, an "I need a break" mode, which had a number of deep breathing and "reset" exercises, and a social story mode that reinforces that uses explanatory feelings to ensure the viewer that they're alright.
---
9. WebMD Pain Coach – tools for social workers
iOS App // Android App
WebMD Pain Coach is an app built for those with chronic pain conditions which helps to record your symptoms, triggers, and notes while reporting potential treatments and tips. Treatments and tips include articles, goals, videos, slideshows, and quizzes. A physician-approved library of resources is also available.
---
10. Individual Education Programs (IEP) Management Apps
iOS App
IEPs, or Individual education programs are a hallmark of both special education and social work, and involve accommodations as well as education plans for those in special education programs. The IEP Checklist helps teachers and parents to communicate on a number of special education regulations. It should be noted that not every item on the IEP checklist is required by special education regulations. To discern the regulations for your particular state, check out Federal Regulations as well as the IEP checklist by the parent educational advocacy.
---
11. PTSD Coach – tools for social workers
iOS App // Android App
PTSD can wreak havoc on the mind and life of those who have it, often coupling with other conditions that are tied to social work: inability to hold down jobs, homelessness, substance abuse issues, or emotional distress.
This app, provided by the Veteran's Administration and the National Center for PTSD, offers reliable information on symptoms and treatment for PTSD, tools for tracking when (and if) user attacks occur, as well as easy to use tools to calm down users. In the right hands–or the hands of someone who suffers from PTSD–a simple app can make such a difference as far as quality of life.
---
12. iTriage
iOS App // Android App
iTriage is like having a full-time medical care assistant who is available around the clock. This app–developed by two ER medicine doctors–allows you to look up data about symptoms, find the nearest treatment facilities, see the average wait times at local clinics, send your symptom information to the appropriate doctor, and even check-in while you're still on your way to the clinic. In the event of an emergency, the app can also function as a critical resource, saving your personal medical information as well as previous symptoms for treating physicians to see.
---
13. iGrade
iGrade is a powerful tool for any social worker or mental health professional, allowing you to not only ditch paper files, but make them as portable as your phone or iPad. The app allows the storage of unlimited patient files and sessions. Files can be accessed on the go, added to, shared with other professionals, or emailed to patients with recommendations and notes in simple form emails. At any point, files may also be printed.
---
14. DSM-5 – tools for social workers
DSM-5, the latest version of the American Psychiatric Association's Diagnostic and Statistical Manual of Mental Disorders, is the preeminent psychiatric reference as well as best friend to many social workers. Streamlined in ways the traditional text couldn't be, the app keeps track of recent searches in the manual, supports acronym, code, and symptom search features, and has a new easy-to-read classification hierarchy.
---
15. KnowBullying – tools for social workers
Yet another app by the Substance Abuse and Mental Health Services Administration (SAMHSA), this app builds on the proven fact that just 15 minutes of "checking in" with your child a day can help establish a strong relationship and prevent bullying. KnowBullying offers conversation starters, strategies to prevent bullying (by age group), warning signs, reminders for when to check in a child, a section for educators, and a way to share advice shared by the app socially.
---
Related: