Last Updated on October 27, 2023 by SWDC Reviewer
The online degree benefits outweigh the challenges for most students because an online degree offers more flexibility. So what are the online degree benefits? Is an online degree worth it? Social workers have many options for completing a degree.
What are Online Social Worker Programs?
A popular question is if completing a college degree in class or online is better. Online degree programs are a valuable part of modern education for social workers.
With online social work programs, social workers can gain a quality education and have time for work and personal life. The world of virtual education has many benefits and its fair share of challenges.
Each benefit or challenge can have a flip side. What may be a benefit to some can be a challenge to others. So, we highlight what most social workers think these categories are in online education.
---
What Are The Benefits of an Online Social Worker Degree?
What are the advantages of online learning for social workers? Online education has become popular in the US, and social workers can earn almost any degree entirely online. An online degree program has many benefits, including flexibility and cost.
Greater Flexibility: An online social work degree provides the opportunity for social workers to learn at their own pace and schedule. Social workers can take classes when convenient while becoming a social worker, allowing you to balance your studies and mental health with family and work commitments.
Cost Savings: Online degrees are generally more affordable than traditional in-person programs. Social workers may also be eligible for scholarships or student loans to help cover the cost of a social worker degree. Often student loans forgiven if you work in health care for a number of years.
Access to Expertise: Online courses provide access to expert faculty who specialize in their field. This allows social workers to learn from some of the best minds in the industry.
Variety of Program Options: With an online program, social workers can choose from a variety of different concentrations and degree levels. This allows social workers to tailor their degree to meet their specific educational and professional goals.
Increased Networking Opportunities: Social work is a highly collaborative field, and earning a social worker degree online may provide more opportunities to network with other professionals, this is just the beginning. Social workers can also join online discussion groups and virtual internships to gain valuable experience on issues such as substance abuse.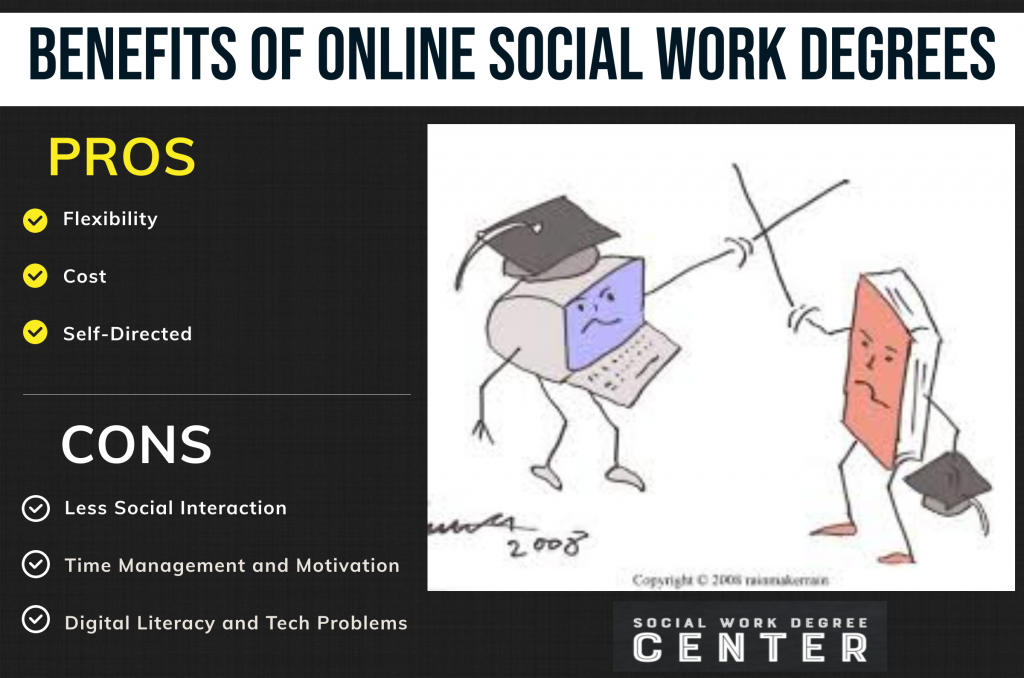 ---
1. Online Social Worker Degrees Offer Flexibility
The number one advantage of online learning is flexibility. Online education programs let students study without interfering with their busy schedules.
While students have due dates for tests and assignments, most classes do not have set class times. In addition, most class learning materials are always available online.
Therefore, social workers can work whenever they have time and from any location with internet access. They can study in the middle of the night or during weekends. This flexibility can be the difference between success and failure for students who work a full-time job or have obligations.
---
2. Cost Benefits Of Online Social Worker Degrees
Online programs typically cost less per credit than on-campus classes. This difference in price makes sense because online programs are less expensive to operate for social workers.
In addition, some schools offer the same tuition rate to all online students, regardless of their state residency. As a result, social workers on a budget often choose online classes based on the cost.
---
3. Self-Learners Excel in Online Social Worker
Programs
Many self-directed and independent learners excel in online programs. These students can even have better outcomes compared to their in-class counterparts. While some students need more time on a subject, others may quickly be ready for the next topic. Rather than following the class pace, online students can set their own pace and work as fast as they want. They can progress through specific topics more slowly or jump ahead when they want. So, if a student is self-motivated, an online degree in Social Work can be the perfect fit!
---
What Are The Challenges of Online Social Work Degree Programs?
Online learning is a great way to learn. However, despite all the advantages of online degree programs, some things are lost when students attend an online program. Thus, students should consider preparing for these challenges before enrolling in a program. If they have doubts, an on-campus environment may better fit their needs.
---
1. Online Social Worker Degrees Have Less Social Interaction
Most online degree programs lack significant face-to-face interaction between students and instructors. This problem is one of the most common challenges students face. Virtual learning platforms often include assignments, video lectures, reading materials, and class forums for discussion. However, some students don't find a virtual classroom as engaging as a traditional one. In addition, a lack of in-person communication can be difficult for students struggling to understand the course material. Direct interaction in a conventional classroom has no replacement for some students.
Even when programs extensively use discussion boards, chat rooms, and videos, they still lack interaction. It is harder to ask questions or discuss with other students and instructors. Depending on the degree social workers are earning, the low social interaction may or may not be an issue. On the other hand, in-class programs provide the social interaction some students need to succeed.
---
2. Time Management and Motivation For A Social Worker
Convenience and flexibility are the top reasons students choose a degree with an online format. However, online students must be self-motivated and have excellent time management skills. Online learning requires students to stay engaged and complete their work without much help.
Some social workers may start a class fully engaged, and then, as the weeks go by, they lose motivation. When this happens, they may fall behind. In addition, many students have responsibilities outside of school.
A lot of online students juggle work, school, child welfare, long hours, median salary and family. These can be the same risks in several occupations. Flexible scheduling is great for online students. However, this benefit can become a challenge for students who are not great at managing their time or lack motivation.
Time management is difficult, especially for an online master's degree because it requires a great deal of self-discipline and self-motivation. Without a professor or other students to hold clinical social workers and school social workers accountable, it can be difficult to stay on top of course work and deadlines. Additionally, it can be hard to stay focused when there are so many other distractions in your environment.
---
3. Digital Literacy and Tech Problems With Online Degrees For Social Workers
Who attended a Zoom meeting this year and couldn't figure out how to mute their microphone? We understand! Everyone struggles with technology on some level.
To attend class online, students must have a certain degree of technological proficiency. However, this is not as challenging as it was ten years ago. But, students should be aware that they will have many classes with new technology to use and figure out. Successful online learners build time each semester for learning something new.
Essential skills for online learners include logging in and participating in classes successfully. In addition, students should submit work and communicate with teachers and classmates. In addition to the basics, students need to understand online communication etiquette.
They should also know the basics of student conduct and responsibilities in an online learning environment. Finally, students in an online bachelor's degree program must learn new technology independently based off the national association recomendations.
Listed are some examples of Tech Problems social workers may run into with Online Social Work Degrees:
Limited Course Selection: Many online degrees offer a limited selection of courses and may not provide access to certain advanced classes or specialized topics.
Lack of Interaction: Online courses can lack the interaction with fellow students and professors that traditional courses provide.
Technical Difficulties: Online courses can be disrupted by technical issues such as slow internet connections, malfunctioning hardware, and software problems.
Time Commitment: It can be difficult to manage the time commitment of online courses, since there are no in-person classes or lectures that a social worker can attend on a regular basis.
Isolation: Without the presence of classmates and faculty, some students may find themselves feeling isolated from the larger academic community.
Is An Online social work degree worth it?
That depends on your individual goals and circumstances. Labor statistics show that a online social work degree can be a great way to get the education and credentials you need to pursue a meaningful career in the field, but it also depends on the quality of the social worker program you choose, your study habits, and other factors. Ultimately, deciding if an online social work degree is worth it is up to you. When choosing the right career path clinical social worker may work in criminal justice, government agencies, substance abuse, military social workers, school social workers, health care, mental health social worker or human well being, or have a private practice. Sometimes a social worker may experience compassion fatigue. It is important to also consider the well being and mental health of the social worker.
If you are interested in a meaningful social worker career and becoming a social worker there are several job prospects available with wonderful job outlook futures:
Police officers sometimes start off as social workers
Nursing homes always have a social worker on staff
Often times many social workers work with healthcare professionals
You can enrich other people's lives by working as a geriatric social worker
The average social worker works as clinical social workers
It can be rewarding to work internationally as a social worker with diverse populations
Police departments work closely with social workers especially with substance abuse
Other professions often employ a social worker to help employees.
Social workers work often as community organizers
Many social workers can find a flexible schedule working with nonprofit organizations
Often times many social workers work in government organizations
You can have a positive impact in mental health and more when you take particular focus in foster care system, government agencies and child welfare as a social worker.
Is an online degree less valuable for Social Workers?
No, an online degree is not necessarily less valuable than a degree earned in a traditional physical classroom. Online degrees are becoming increasingly popular and more widely accepted in many fields. In some cases, they are even more highly valued than traditional bachelor's degree or master's degree due to the increased flexibility and convenience they offer.
---
Related:
---