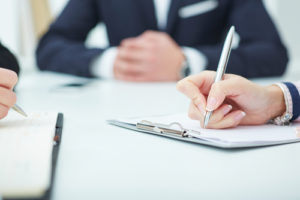 As early as the prohibition era, the federal government has had a system in place for assisting America's most needy families. Despite being oversimplified by proponents of welfare slashing, the matter of public income maintenance is a highly nuanced one – it's more than simply infusing low-income families with cash. Social workers, who operate on the front lines of this issue, can attest to the many factors (other than income) that affect an individual or family's eligibility for assistance, overall well-being and likelihood to achieve self-sufficiency.
Generally, a social worker in this space is referred to as an "Income Maintenance Caseworker." They interview potential recipients (of public income) to determine eligibility under the supervision of a case manager. Specific job duties can vary based on the state, the department – as in Medicaid versus a supplemental nutrition program, for example – and several other factors.
For social workers considering a career in public income maintenance, the following information will help to outline the framework governing the career and the welfare system itself while providing plenty of clues as to where the welfare system is headed.
Public Income Maintenance and Social Insurance Programs Are Not the Same
First and foremost, let's define public income maintenance. This term refers to a selection of federally funded programs established to provide subsidized assistance to needy families and individuals. The type of assistance and quantity can vary, as we will cover in the next point, but the overall intent is to maintain a livable level of income for families struggling to achieve self-sufficiency.
Conversely, consider the phrase "social insurance." Often confused for welfare and/or public income, these programs are meant to provide short-term assistance in the event of an injury, loss of a job, or other life event affecting one's ability to work. The use of unemployment insurance or social security benefits, for example, as supplemental income sources for the temporarily unemployed.
Both public income and social insurance programs are intended to assist an individual or family in transitioning from dependency (on the program) to self-sufficiency, but they are different in how they are structured, funded and administered. A social insurance program is often funded from an employee's wages, while subsidized assistance is not.
"Income" Refers to More Than Cash  
While poverty is at the heart of many epidemic-level deficiencies in low-income communities, money isn't always the solution. Consider public health and nutrition, for example. No amount of money will educate and train a family on how to avoid poor nutritional choices. For this reason, the government maintains supplemental nutritional assistance programs and others that focus on education and counseling.
Public income is also allocated to several other services that prioritize assistance and education over money – housing assistance, for example. Even with down-payment money, first-time homeowners with no credit or poor credit may be unable to secure a loan. The government provides subsidized housing to address this logistical concern and the many others that make housing an impossibility for people.
Finally, there is the unavoidable topic of health insurance coverage for needy families. The presiding system, Medicaid, covered more than 65 million adults in 2019. Medicaid most often acts as a "secondary" or "supplemental" income for low-income seniors, who will first draw from Medicare, then from Medicaid to cover the rest of their healthcare expenses.
The issue of providing services over many is important to keeping public income alive because, as Reagan railed against in the 70s, there is a well-established school of fiscally conservative Americans who believe that simply pumping cash into low-income families will perpetuate what they call "the cycle of poverty." Since then, the eligibility requirements for aid have been tightened considerably, which is central to the social worker's role in public income management.
Public Income Maintenance Workers Handle Incoming Requests
Social workers in this area have to apply a combination of data interpretation, clerical and critical thinking skills to properly interview clients and process applications for assistance. The regulations governing public income eligibility change very frequently, depending on state requirements, which requires social workers to frequently update their knowledge base for proper compliance. As mentioned, public income is federally funded, but it is up to each state to oversee the disbursement. The following list details the typical skill set required of a public income case-worker, though duties may vary based on state, specialty and other factors:
Proficiency with office technology: Depending on the size of the department, social workers in this area often work with third-party software applications for communication and documentation purposes. Standard office technology (Microsoft office, fax and copy machines, general computer use, etc.) is also a requirement.
Communication skills: Public income case-workers will encounter people from all across the socioeconomic and cultural spectrum. Understanding how to build rapport and communicate with people from all different backgrounds is crucial to an efficient application and intake process.
Prioritization and time management: On any given day, a public income case-worker may be handling dozens of applications, requests, and conversations with coworkers at the same time. Efficiently managing this workload requires a system for prioritizing tasks based on time-dependency and other criteria.
Knowledge of changing rules and regulations: As mentioned, staying current with changes in the administration of public funds, including eligibility requirements, requires a steady commitment to regular training.
The Relationship Between Social Work and Public Assistance Is Always Changing  
Examining the history of social casework as it pertains to the policies and practices surrounding income relief gives us a clearer view of today's system while also hinting at what may come next. After the Great Depression, for example, the U.S. government shifted away from direct relief for low-income families, instead referring them to public agencies. Then, after the social services amendments of the 1960s, the government somewhat drastically reworked the entire framework through which services and supplemental income are provided. After the amendments, social services and income were separated, and numerous provisions were made to increase direct assistance to low-income families. Today, social workers can use their discretion when it comes to the direct care and/or referral of their clients – a sign of slow, but marked progress.
Even with firmly laid context, it's difficult to accurately predict the future of public income reform because of the many proposals and political camps that are vying for legislative changes. It's important to note that public income is not meant as a permanent solution, but as an aid in the transition between unemployment and self-sufficiency. What forms that aid can take, and how much of it is available, is a direct product of diligent social workers, reformers, advocates and policymakers.
Tim Kalantjankos
B.S. Sociology | University of Nebraska at Omaha
A.S. Physical Therapy | Clarkson College
September 2019
More Articles of Interest: