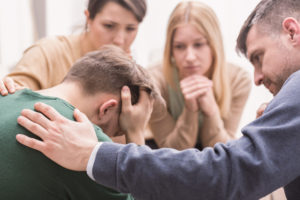 As implied by the name, community-based interventions target larger portions of the population to address a recurring problem among these groups, who are categorized into the same demographic (and share the same problems) by regional trends, age, parental status, education level, socioeconomic status, or several other factors. This article will review several types of community-based interventions and the advantages and disadvantages of this method.
Types of Community-Based Interventions
Before implementing or even planning a community-wide program, social workers must first identify the need. Especially if grants and other funding options are in play, it's usually not enough to simply propose a program on observation alone. Step one is to identify a problem and objectively demonstrate its negative impact on the community. This means researching disease/mortality rates, crime rates, and whatever other metrics your program seeks to change. Without a foundation of thoughtful and critical research, the program may fall short of its objectives
With that in mind, the following types of programs have been practiced in many cities and towns throughout the country. Note that each of these represents a type of program, and that specific objectives/methods of each will vary based on the population, the problem, environmental circumstances and other factors.
Parental Education Programs
By supporting and educating parents in low-income areas, social workers believe that they can address multiple societal problems at the most fundamental level. For example, the Head Start program empowers parents in a number of ways. This program teaches parenting skills, network-building and stress management. The latter two may seem less relevant, but low-income parents tend to experience social isolation and frustration at work (or in the job search), which can negatively affect outcomes in terms of their children's learning and development. Furthermore, parents that are incapable of finding and retaining jobs is a strain on the welfare system.
The same insightful and sensitive approach must be applied to program implementation. A classroom-style lecture, for example, is shown to be fairly ineffective with low-income parents. This type of community-based intervention and all others need to deliver their services in a manner appropriate to the population if they want to be effective.
Public Health Programs
The most popular community-based intervention is the public health program. These programs can focus on general health and fitness or a specific community, i.e., the COPD community, HIV/AIDS community and so forth. The populations and problems targeted by this type of community-based intervention form a lengthy list, including things like:
Childhood obesity
Diabetes
Parkinson's
Coronary Heart Disease
Arthritis
The format of the intervention itself is just as open-ended as the number of health disorders targeted by these programs. As mentioned, proper research will identify the best strategy. Ideally, the program meets participants in their environments. For this reason, school- and work-based health initiatives are commonly used. For example:
Discounted gym memberships for employees
Weight-loss contests and incentives for employees (bonus time-off, etc.)
Fitness games, contests, prizes, etc. for students
Educational Programs
Objective data has proven at length how education impacts both income and unemployment rates. On both a city-wide and national level, these figures strongly influence a number of critical values and markets, such as welfare funding, GDP, the housing market, healthcare reimbursement and much more. Needless to say, education is at the heart of well-being at both the individual and enterprise levels.
Educational policy reform movements and awareness campaigns have spawned many community-based interventions in the area of education. Dropout prevention programs, vocational training, basic skills curriculum, achievement tracking and accelerated learning programs are just a few examples of these interventions. In addition to academic improvement, many of these programs aim to divert children in high-risk areas from crime-related activities.
Preventive Programs
If the environment and circumstances are appropriate, social workers will sometimes develop society-based interventions that promote social change through prevention. Instead of increasing a group's access to a resource, for instance, this type of intervention seeks to discourage certain activities. The following formats are common in this arena:
Drug and gun amnesty days
Adolescent pregnancy prevention
Anti-gang initiatives
Anti-drug initiatives
Suicide prevention programs
As always, how these programs are brought to the public depends heavily upon that particular region and population's characteristics. The objective data can offer important clues in terms of the most effective program delivery method. For a program to comprehensively address a problem, it often has to root out the potentially unforeseen factors that cause it. If a particular community of drug users chooses to buy and consume illicit drugs as a means of managing their chronic pain conditions, for example, simply railing against that particular drug without increasing this community's access to cheap and legal pain-control options will not help.
Advantages & Disadvantages
Aside from failing to address the cause of the targeted problem, community-based interventions that are poorly researched or implemented are often accompanied by other disadvantages. Depending on funding, a particular program may rely heavily on volunteer labor, which isn't always consistent. This can increase attrition rates beyond the minimum acceptable standards. Additionally, the lack of appropriate follow-up when necessary can cause an otherwise helpful program to fail.
When properly planned and executed, society-based interventions can serve a number of important purposes. First and foremost, lasting social change. When the cause of the target behavior or problem is addressed sufficiently, a program can put systems in place that last long after its conclusion, which is the ultimate goal. Secondly, the results of society-based interventions, even if they are negative, can provide important data for future program planning and research initiatives. The success of any particular intervention can also act as a proving ground for policy proposals, influencing politicians to make decisions in favor of the successful proposal. Finally, even when the results aren't permanent, society-based programs can save lives endangered by epidemic-level disorders, violence, drugs and other common problems.
Tim Kalantjankos
B.S. Sociology | University of Nebraska at Omaha
A.S. Physical Therapy | Clarkson College
September 2019
More Related Articles: