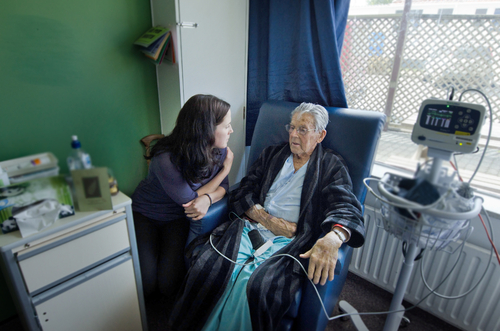 A Hospital Social Worker connects patients and families with resources and may also provide patient and family education and counseling.
A Hospital licensed clinical social worker is sometimes called a medical social worker. They may work very long hours and witness some very traumatic events such as families reacting to the death of a loved one, the death of a long-term client, children coming into the hospital with injuries from abuse, or the suffering of patients in the hospital. Because of this, a medical social worker can experience secondary traumatic stress and burnout, same as other health care professionals, but they also can have very long and fulfilling careers.
What is Hospital Social Work?
Hospital social work is a very challenging sub-field of social work. It is not for everyone. But for certain social workers who are well suited for the fast pace and challenges hospital social work brings, it is a calling.
---
What are the Types of Medical Social Workers?
Inpatient Medical Social Workers
Outpatient Medical Social Workers
Medical Social Workers in Specialized Clinics
Public Health Educators and Advocates
---
What Does a Hospital Social Worker Do?
Hospital social workers have a variety of responsibilities including admitting and discharging patients and keeping various patient records. What are a Hospital Social Worker Job Responsibilities?
Community Resources Connection and Navigation Services
They may help families arrange for home health care settings for elderly or seriously chronically ill relatives upon discharge from medical facility or for. hospice care for terminal patients or those needing mainly palliative (pain-relieving) care.
Care Coordination
They may arrange for workers from external agencies to work with elderly patients living alone, recovering substance abusers, or psychiatric patients transitioning to outpatient care. Some patients need income support or other social services. So medical social workers can help patients being discharged find housing, public benefits, or with job training.
Patient and Family Education, Counseling, and Therapy
A Medical social worker also often leads therapeutic groups for patients and provide psycho-education to family members. In a psychiatric hospital setting, they may lead groups for patients recovering from severe mental illness. Or in a hospital oncology department, they might organize support groups for patients or family members in mental and or emotional distress counseling and health for emotional support.
Crisis Intervention
Medical social workers may make a one-time visit to patients in crisis or provide regular individualized therapy. Patients may want to talk about the impact a disease or condition is having on them or other issues.
Administrative and Billing Tasks
A medical social worker may also work on billing and health insurance casework and advocacy coordinating patients care. For example, they may help low-income patients enroll in public health insurance programs. They help patients with billing problems or obtain approval from their insurance provider for a procedure. They may act as a troubleshooter when it comes to dealing with Medicare or Medicaid. Hospital social workers sometimes have the unpleasant task of obtaining payment for procedures or treatment from patients or insurance providers.
---
Where are Hospital Social Workers Employed?
A medical social worker may specialize and work with certain populations. Examples include psychiatric patients, pediatric patients, elderly patients, substance abusers, and also hospice patients. Work settings vary as well. Locations may include psychiatric hospitals, children's hospitals, substance abuse treatment centers, hospice facilities, and also nursing homes.
---
Helping Patients and their Families with Ethical and Spiritual Issues
Hospital social workers can become involved in helping patients and families with ethical and spiritual issues as well. They may counsel patient's families on advanced directives about end of life care. For example, some help with do not resuscitate orders (DNR). Some medical social workers may arrange spiritual care for patients such as a visit from a clergy member. They might also conduct spiritual assessments and mental health assessments for long-term hospital, nursing home, or rehabilitation center patients. These determine a patient's spiritual care needs and how to meet them while they are inpatients.
---
How Do you Prepare for a Career in Hospital Social Work?
Social work students who are interested in going into hospital social work should do fieldwork in a hospital setting. Additionally, courses relevant to medical social work help to prepare for these roles. They will also need to obtain the necessary licensure required for specific positions they want in a health care system. Obtaining a post-graduate certificate is an option for those interested in hospital social work. For example, the National Association of medical Social Workers offers a social work certification in health care.
---
Experience Working in a Hospital Setting is Valuable
Some medical social workers believe it is beneficial for all social work students, even those who don't want to go into hospital social work, to get some experience working in a hospital setting. Clinical Social Worker and Certified Professional Coach Mrs. Kimberly Grocher, LCSW believes every social work student should be required to do some form of hospital social work fieldwork because she says this type of placement brings together the micro and macro.
In a hospital setting, students learn to deal with the social policies, systems, community resources and resources in the community such as in situations where patients who should be treated in outpatient settings end up being treated as inpatients due to lack of resources or systemic issues. "But students should also know hospital social work is not for everyone on a long term basis," says Mrs. Grocher, who has worked in several medical institutions, inpatient and outpatient, including Weill Cornell Medicine, and believes being a hospital social worker greatly contributed to her growth as a social worker.
---
The Interdisciplinary Nature of Hospital Social Work
Those interested in going into hospital social work should be aware that they will most likely be working as a member of an interdisciplinary team providing holistic care to patients. As a member of these teams, medical social workers may work with psychiatrists, doctors, medical specialists, occupational therapists, psychologists, other human service professionals, and administrative staff.
Medical social workers must be able to collaborate with others in caring for patients. They should also be able to refer clients to outside mental health services as needed. According to Mrs. Grocher, hospital fieldwork helps students learn to work on an interdisciplinary team with other medical and allied health professionals such as occupational therapists and physical therapists.
As integrated care becomes the optimal standard for healthcare, the importance of social work in medical and hospital settings come into even greater focus (de Saxe Zerden, Lombardi & Jones (2018). Integrated care means mental and physical healthcare is provided, and both aspects of care are viewed as integral to the health of a patient. Integrated care is key to preventing and addressing many physical and mental health care problems. Medical Social workers are familiar with integrated care and should be vocal proponents of such care in any healthcare setting including in hospitals.
---
What is the Role of Medical Social Workers?
There are many social determinants of poor physical and mental health including racism, poverty, and discrimination. Medical Social workers in healthcare and hospital settings have an important role in sharing not only their knowledge about the intersection and mental and physical health but also about the various social determinants of health. They can help educate communities and healthcare providers in hospital and other health care settings about these determinants so that all can advocate for policies and programs that will improve the health of communities.
What Challenges that Medical Social Workers Face?
1. Limited Access to Resources: Medical social workers face the challenge of limited access to resources, such as mental health services and medical technology. This can limit their ability to provide necessary services for their clients.
2. High Workload and Stress: Medical social workers can experience high workloads and high levels of stress due to the complexity of their cases and the need to take on a variety of tasks.
3. Lack of Financial Support: Medical social workers often lack financial support in providing services or advocating for clients.
4. Difficult Interactions: Medical social workers often face difficult interactions with medical staff, clients, and family members as they negotiate the best available care for a client.
5. Cultural Competency Challenges: Medical social workers must be culturally competent to provide the best healthcare services. This requires a knowledge and understanding of a diversity of cultures and their traditions.
6. Burnout: Working with medically-complex cases can be highly emotional and rewarding, but can also lead to burnout if not managed properly.
---
Why Do People Become Medical Social Workers?
People become medical social workers for many reasons. Medical social work provides an opportunity to use one's skills to help those in need, especially those most vulnerable and underserved. It is a field that involves an understanding of human behavior and the psychosocial dynamics of illness, as well as the social environment and contexts in which illness and health care occur.
The job of a medical social worker is both rewarding and challenging, as they provide valuable assistance to those dealing with medical, emotional, and financial difficulties. They help patients connect with available resources, provide emotional and practical support, coordinate care with all involved parties, and empower individuals to take control of their health and well-being, among other duties.
---
Related: