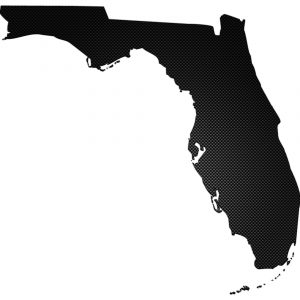 Our guide on how to become a Social Worker in Florida explains the education, license, and employment information for a career the Sunshine State.
The Sunshine State, better known as Florida, is the third-most populous state in the United States, with nearly 22 million residents. Florida is well known for its miles of coastline and its mild climate. Many retire in Florida because the weather is pleasant all year. This sizeable aging population in Florida creates a need for health care workers and social workers. So, like the rest of the country, Florida can expect to see an increase in Social Worker employment in the next decade. If you are interested in a career in Social Work in Florida, check out our list of the 10 Best Social Work Schools in Florida.
Steps to Become a Florida Social Worker
Earn a CSWE-Accredited Social Work Degree
Complete Post-Graduate Field Hours
Get Licensed
What are Social Worker Degree and Education Requirements in Florida?
The Social Work degrees available in Florida include associate, bachelor's, master's, and doctoral.
Associate in Social Work (AA or AS)
A two-year associate degree can usually be a great introduction to the field of social work. Associate degrees are generally equivalent to the first two years of a four year degree program, and students can transfer credits to a four-year school.
Bachelor's Degree in Social Work (BSW)
The minimum educational requirement for most entry level positions and social work jobs is a bachelor's degree from an accredited college. Students with a four-year BSW can work in generalist social worker roles in Florida. Facilities, where you work, include both nursing homes and crisis centers. In addition, graduates qualify for other jobs as case managers, child welfare workers, and correctional facilities.
A student with a bachelor's degree may also opt to apply to a graduate program. In addition, many master's level programs offer advanced standing for students with a BSW.
Master of Social Work (MSW)
MSW programs include academic study and practicum experiences. Students interested in becoming clinical social workers must have a master's degree in Social Work. Graduates work in mental health, rehabilitation, and as school counselors. Many programs also offer concentration tracks as part of the master's curriculum.
Doctoral Degrees in Social Work
A doctorate level degree in Social Work is considered a terminal degree in the field. However, individuals do not need a doctorate to obtain a license. But, in most places, they need a doctorate to teach or become an expert in the field. Students interested in research usually choose a PhD, while those interested in practicing most often earn a DSW.
CSWE Accreditation in Florida
If you are interested in earning a Social Worker degree in Florida, make sure you check the CSWE accreditation. Furthermore, if a school is not accredited, you should mark it off your list.
---
What Are the Social Work Licensing Requirements in Florida?
The body responsible for licensing Social Workers in Florida is The Florida Board of Clinical Social Work, Marriage & Family Therapy, and Mental Health Counseling. This board also handles license monitoring and disciplinary actions.
Florida law recognizes two permanent Social Work licenses, and both require a master's degree. The two licenses are the Certified Master Social Work (CMSW) and the Licensed Clinical Social Worker (LCSW).
1. Certified Master Social Worker (CMSW)
The CMSW is an administrative license for social work. Thus, License holders cannot provide clinical services. The education requirement for the license is either a master's or doctorate from a CSWE-accredited school of social work. In addition, students must complete specific coursework requirements, pass the ASWB's advanced generalist exam, and have three years of experience.
2. Licensed Clinical Social Worker (LCSW) for mental health
The LCSW allows an individual to provide clinical services. The license requires a master's degree from a CSWE-accredited school of social work. In addition, applicants must have two years of supervised experience and have passed the ASWB's clinical-level exam.
---
Florida Special and Temporary Licenses
There are two special licenses issued in the state of Florida.
1. Registered Clinical Social Worker Intern
This license serves as a temporary license. At the same time, an individual completes the requirements to become a Licensed Clinical Social Worker in Florida. An individual needs to practice to earn the experience necessary to become an LCSW. But they cannot practice without a license. Therefore, this license is for those in the process of acquiring two years of supervised post-master's experience to become an LCSW.
2. Limited Licensure
Florida has an additional license for individuals who have an unencumbered clinical license from any jurisdiction in the United States. They have to have held the license for ten years or more and be retired or close to retiring. This program the state created to bolter resources for serving critical need populations in Florida. More information is available on the state licensing site.
---
Florida Voluntary Certifications
In addition to licensure, many Social Workers also opt to pursue a certification. The voluntary process can help when applying for specific jobs. While licensure is general, certification can be sought in particular areas, indicating a level of accomplishment in those specializations. For example, professionals can obtain specialty credentials in several areas, including case management, school social work, gerontology, healthcare, and military social work.
Some certifications only require a bachelor's degree in social work. Individuals can earn some certificates before obtaining licensure. Social workers typically receive certification requirements related to education, experience, examinations, and professional guidelines. Different professional organizations may offer various credentials or certifications. Below are a few of the National Association of Social Workers (NASW) specialty credentials
Florida Advanced Practice Specialty Credentials:
Certified Social Work Case Manager
Clinical Social Worker in Gerontology
Advanced Children, Youth, and Family Social Worker
Advanced Certified Hospice and Palliative Social Worker
Certified School Social Work Specialist
---
Out of State Licensing Reciprocity in Florida
Can you get a social work license by endorsement in Florida? You can apply for a license in Florida if you hold a social work license in another state. The process is called Reciprocity or Endorsement. To apply, a Social Worker must verify a current license and supply some supporting documentation. The required documents usually include official school transcripts and exam scores. Applicants also have to complete the necessary classes on Florida laws and rules and a course on HIV/AIDS.
Applicants for LCSW licensure by endorsement are also required to complete a class in domestic violence within six months of getting a Florida license.
ASWB Social Work License Compact
The ASWB is working to create a social work licensing compact. The compact will enable licensees to quickly obtain a license to practice in a state other than where they hold a charge. Stay tuned for more information.
---
Additional Licensing Renewal And Continuing Education Information
Both CMSWs and LCSWs licensees must renew their Florida licenses by the end of March during each odd-numbered year. In addition, they require thirty hours of continuing education (CE) for each renewal period. The board also requires specific courses for each renewal period. Every six years or third biennium, licensees must complete additional classes. Individuals can take the board-approved courses online or by home study. New licensees do not have to take CE until after the first two years of licensure.
Social Workers who obtain a Florida license must also complete a domestic violence class and an HIV/AIDS course within six months.
---
How Long Does It Take To Become A Social Worker In Florida?
The time it takes varies depending on the degree you earn, the program format, and licensure requirements. Students enrolled full-time in a bachelor's degree program usually complete their degree in four years. Suppose a student has already completed an associate degree and can transfer most of their earned credits. In that case, they can earn a bachelor's in additional two years.
Students can complete a master of social work degree in two years of full-time enrollment. Individuals who already hold a master's degree can complete an online doctoral program in social work in as few as three years. In addition to the education completion time, you will also need to add in the work experience requirement.
---
How Much Do Social Workers Make In Florida?
The Bureau of Labor Statistics (BLS) reports the below Social Work career categories in Florida and the average salaries of the role.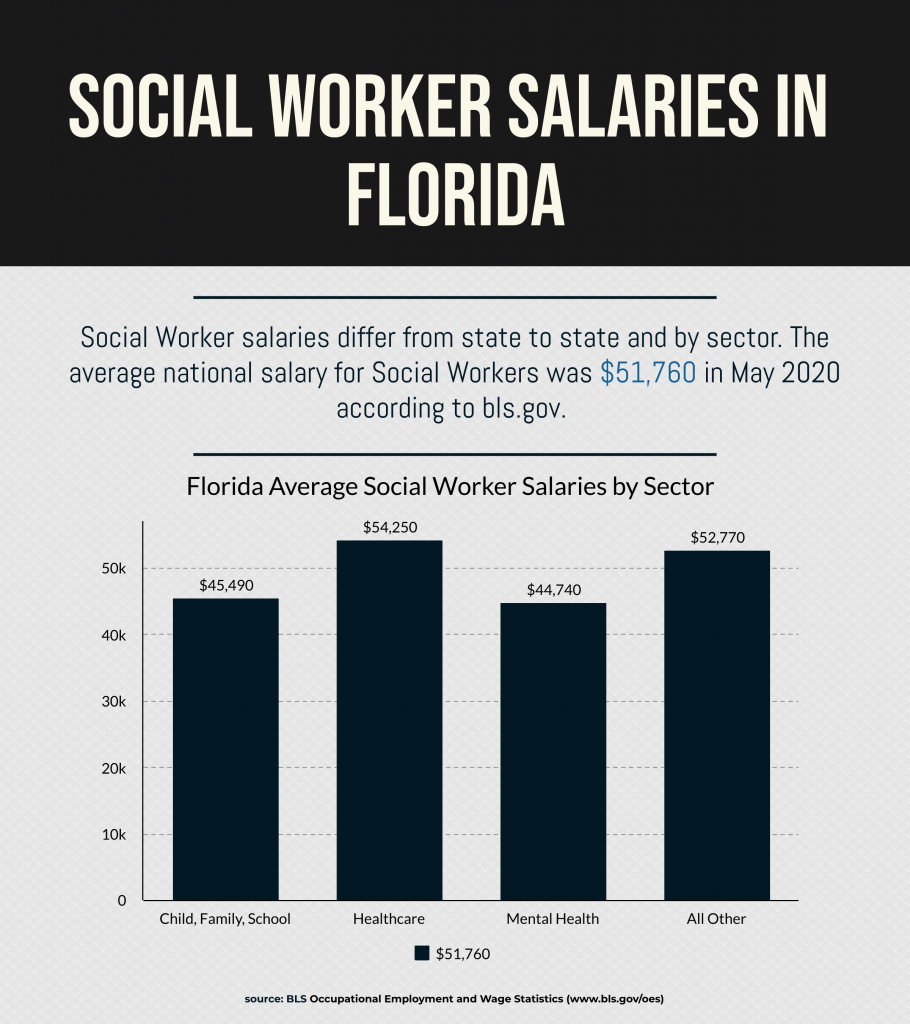 ---
Professional Resources For Social Workers in Florida
Additionally, information on Social Work in Florida is available from the organizations listed below for professional social workers.
---
Social Work Degree Programs in Florida
Below is a list of bachelor of Social work (BSW) and master of social work degree programs that are CSWE accredited in Florida. Aspiring social workers in Florida can find a program for their career path. Many of these schools offer both traditional on-campus programs and online programs.
| University | Location | Program Level |
| --- | --- | --- |
| Ana G. Mendez University | Orlando, FL | MSW |
| Barry University | Miami Shores, Florida | BSW, MSW |
| Florida Agricultural and Mechanical University | Tallahassee, Florida | BSW, MSW |
| Florida Atlantic University | Boca Raton, Florida | BSW, MSW |
| Florida Gulf Coast University | Fort Myers, Florida | BSW, MSW |
| Florida International University | Miami, Florida | BSW, MSW |
| Florida Memorial University | Miami Gardens, FL | BSW |
| Florida State University | Tallahassee, Florida | BSW, MSW |
| Saint Leo University | Saint Leo, FL | BSW, MSW |
| Southeastern University | Lakeland, Florida | BSW, MSW |
| University of Central Florida | Orlando, Florida | BSW, MSW |
| University of North Florida | Jacksonville, Florida | BSW, MSW |
| University of South Florida | Tampa, Florida | BSW, MSW |
| University of West Florida | Pensacola, FL | BSW, MSW |
| Warner University | Lakes Wales, FL | BSW |
CSWE Directory of Accredited Social Work Programs in Florida
Your Social Work Career In Florida
A career as a social worker in Florida involves pursuing a social worker degree from an accredited university, which prepares students with the skills necessary to become licensed clinical social workers and licensed social workers. Knowledge of human behavior, social and economic justice, political science, human development, local government, and the practice of policy ensure the necessary skills for a career in social work.
Traditional. advanced standing, and online social work programs meet the state board's licensure requirements. So students have lots of choices. So, if you are interested in becoming a Social Worker in Florida, make sure you read our list of the Best Social Work Schools in Florida.
---
Related: