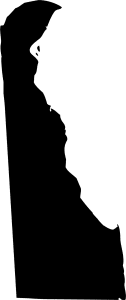 Learn how to become a licensed Social Worker In Delaware. License, education, and employment information for anyone interested in Social Work in Delaware.
Delaware is a small but significant state located in the Mid-Atlantic region of the United States. It is the second smallest state by land area and the sixth least populous state in the country. Delaware is often referred to as "The First State" because it was the first state to ratify the U.S. Constitution in 1787.
The state is bordered by Maryland to the south and west, Pennsylvania to the north, and New Jersey to the east. Despite its small size, Delaware boasts a diverse landscape that includes coastal areas along the Delaware Bay and Atlantic Ocean and rolling hills and forests in the northern and central parts of the state.
Delaware has a rich historical heritage. It played a crucial role in the development of the country, particularly in terms of commerce and industry. The state is home to numerous historic sites, including the colonial town of New Castle, the Victorian-era town of Odessa, and the historically significant city of Wilmington.
In terms of economy, Delaware is known for its business-friendly environment and favorable tax laws, which have attracted many corporations to establish their headquarters in the state. The financial and legal sectors and the chemical and pharmaceutical industries are major contributors to the state's economy.
What Are The Social Work Education Requirements In Delaware?
To become a licensed clinical social worker lcsw in Delaware, individuals must meet specific educational requirements as mandated by the Delaware Board of Clinical Social Work Examiners. These requirements are designed to ensure competency and professionalism in the field of clinical social work.
The first requirement is obtaining a Master's Degree in Social Work (MSW) degree from a program accredited by the Council on Social Work Education (CSWE). A Master's Degree in Social Work typically takes two years to complete and includes both coursework and supervised practical experience. The curriculum covers various aspects of social work practice, such as human behavior, social policy, ethics, and research methods.
After obtaining a Master's Degree in Social Work , aspiring licensed clinical social workers in Delaware must complete 3,000 hours of supervised clinical experience. This experience must be obtained over a period of no less than two years. The board requires that at least 2,000 hours of this experience be spent providing direct client services, such as individual or group therapy, assessment, and diagnosis. In some cases people decide to go on and get a doctoral degree.
In addition to the educational and experiential requirements, individuals must also pass the Association of Social Work Boards (ASWB) clinical exam. This exam tests knowledge and skills in various areas of clinical social work practice and is a national standardized assessment.
Once all the requirements are met, individuals can apply for licensure.
What Are the Social Work Licensing Requirements in Delaware?
Upon receiving licensure, individuals in Delaware are granted the title of Licensed Clinical Social Worker (LCSW). A clinical social work license allows individuals to practice clinical social work independently, providing a wide range of mental health services to clients.
Delaware offers other levels of social work licensure, such as Licensed Bachelor of Social Work (LBSW) and Licensed Master of Social Work (LMSW/ master's degree). These have slightly different requirements. These licenses allow individuals to practice social work at the bachelor's or master's level, respectively, under the supervision of a licensed clinical social worker.
Social work licensure serves as a form of professional regulation and allows for accountability and public protection. It ensures that practitioners adhere to ethical standards and follow best practices in their field. Furthermore, licensure allows for the recognition and validation of the social work profession, providing individuals with the ability to bill insurance companies and participate in third-party reimbursement systems.
Can You Get A Social Work License by Endorsement In Delaware?
Yes you can get a Delaware social work license by endorsement in Delaware. It requires individuals to meet the criteria set by the Delaware Board of Clinical Social Work Examiners. It is a rigorous process that ensures professionals in the field of social work are competent and well-prepared for the complex and challenging work a social worker will encounter in their careers.
How Long Does It Take To Become A Social Worker In Delaware?
To become a social worker in Delaware, individuals must complete a specific educational and licensing process. The first step is to obtain a Bachelor's degree in Social Work (BSW) from an accredited college or university. This typically takes four years to complete. Some individuals may already have a bachelor's degree in another field and choose to pursue a Master's Degree in Social Work (MSW) instead.
After completing the BSW or Master's Degree in Social Work, individuals must apply for licensure in Delaware and complete continuing education. To be eligible for licensure, individuals must complete a total of 3,000 hours of supervised social work experience. This experience can be gained through internships, practicums, or employment in social work settings and various continuing education courses.
Once the required experience has been obtained, individuals must pass the Association of Social Work Boards (ASWB) exam. This is a national standardized aswb clinical exam that tests knowledge and skills in the field of social work.
The entire process of becoming a licensed social worker in Delaware can take several years to complete. Depending on the individual's educational background and the time it takes to accrue the required supervised experience. Continuing education courses are required the remainder of your career.
How Much Do Social Workers Make In Delaware?
The salary of licensed clinical social workers in Delaware can vary depending on factors such as education, experience, and location. According to the U.S. Bureau of Labor Statistics (BLS) data for May 2023, the median annual wage for clinical social workers in Delaware was $55,480. Those with a doctoral degree make the most. Some jobs may include licensed psychologist, licensed psychiatrist, running your own clinical practice.
However, it is important to note that salaries can vary based on the specific area of social work. Here are the median annual wages for different types of licensed clinical social workers in Delaware:
Child, Family, and School Social Workers: A child social worker is dedicated to promoting the welfare and protection of children. They assess, investigate, and intervene in cases where children are at risk of harm or experiencing adversities. They develop individualized care plans, collaborate with other professionals, and coordinate services to meet the unique needs of each child. They act as advocates, representing children's interests and rights in legal proceedings and meetings. Additionally, they provide counseling and emotional support to children and their families, addressing trauma and behavioral challenges. In cases where placement outside of the family is necessary, child social workers facilitate foster care or adoption, ensuring the well-being and stability of the child in their new environment. They also engage in crisis intervention, respond to immediate risks, and work to ensure the safety of children. Education, prevention, and documentation are integral aspects of their role, as they educate communities, provide training, and document their interventions and interactions. Ultimately, child social workers aim to create a secure and nurturing environment for children, ensuring their protection and promoting their healthy development.
Healthcare Social Workers: A health care social worker is a professional who provides support and services to individuals and families within the healthcare system. They assist patients in navigating the complex healthcare system and ensure their emotional and social needs are addressed. This may include assessing patients' needs, developing care plans, coordinating services and resources, providing counseling and emotional support, and advocating for patients' rights and access to healthcare. Health care social workers play a vital role in enhancing patients' overall well-being and ensuring they receive comprehensive care.
Mental Health and Substance Abuse Social Workers: A mental health social worker provides support and assistance to individuals dealing with mental health issues. They assess clients' needs, develop personalized care plans, and provide counseling and therapy. Additionally, they may assist with case management, crisis intervention, advocacy, education, and connecting clients with community resources. Their goal is to promote mental well-being and support clients in their journey towards recovery.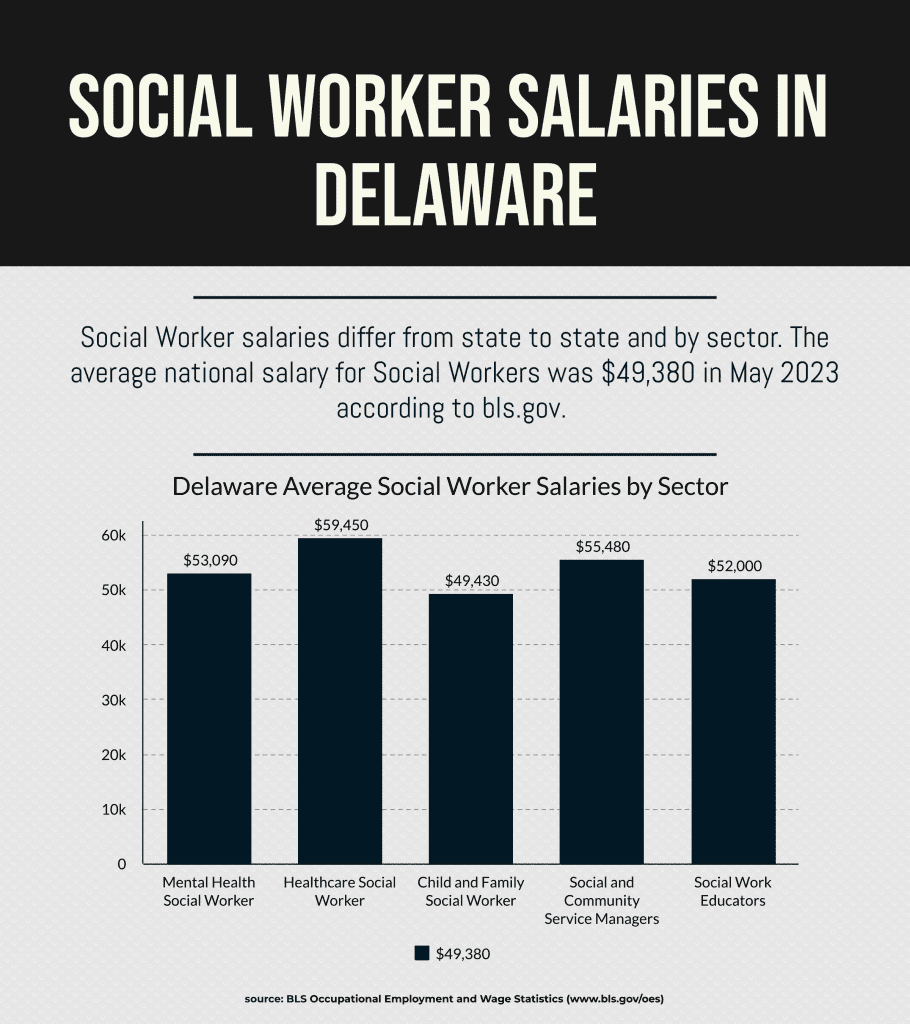 What Is It Like Working As A Social Worker In Delaware?
Social workers in Delaware can work in various settings, including government agencies, non-profit organizations, hospitals, schools, and community centers. They collaborate with other professionals and community organizations to address social issues, advocate for social justice, and promote positive social change.
Working in social work in Delaware can be both rewarding and challenging. Social workers have the opportunity to make a significant difference in the lives of individuals, families, and communities. Social Workers provide vital support and resources to those in need. They advocate for social justice, and work towards creating a more equitable and inclusive society.
However, social work also comes with its share of challenges. Social workers may encounter complex and difficult situations. These may include cases of child abuse or neglect, mental health crises, or substance abuse. These situations require competent and sensitive intervention, often with limited resources and support.
Despite the challenges, social work in Delaware offers opportunities for professional growth and development. The state provides access to ongoing training, workshops, and conferences. These enable social workers to enhance their skills and stay updated on best practices in the field.
Overall, working in social work in Delaware requires compassion, resilience, and a genuine desire to improve the lives of others. Social Work is a profession that offers the chance to make a meaningful impact and contribute to the well-being of the state's residents.
Related:
25 Best Master's in Human Services Degrees